Cócteles fáciles para probar este 14 de febrero
Cócteles fáciles para probar este 14 de febrero
El 14 de febrero es una fecha especial en la que muchos celebran el amor y la amistad. Ya sea que estés planeando una cena romántica en casa o una reunión con amigos, ofrecer deliciosos cócteles puede ser una excelente opción para sorprender a tus seres queridos. A continuación, te presentamos algunas recetas de cócteles fáciles de preparar que seguramente conquistarán a todos en esta fecha tan especial.
1. Margarita de fresa: Este clásico cóctel puede ser aún más especial si le agregamos un toque de fresas frescas. Para prepararlo, solo necesitas licuar 1 taza de fresas congeladas, 2 onzas de tequila, 1 onza de jugo de limón, 1 cucharada de azúcar y cubitos de hielo. Sirve en copas con sal en el borde y decora con una rodaja de limón.
2. Piña colada: Un cóctel tropical que siempre evoca un ambiente de playa y relax. Mezcla en una licuadora 4 onzas de ron blanco, 2 onzas de crema de coco, 4 onzas de jugo de piña y cubitos de hielo. Sirve en vasos altos y decora con una rodaja de piña y una cereza.
3. Mojito de frutos rojos: Refrescante y lleno de sabor, este mojito es perfecto para el Día de San Valentín. Tritura en un vaso 1 puñado de frutos rojos (fresas, frambuesas, moras), añade 2 onzas de ron blanco, 1 onza de jugo de lima, 1 cucharada de azúcar y hojas de menta al gusto. Agrega hielo picado y completa con agua con gas. Decora con una ramita de menta.
4. Martini de frambuesa: Este sofisticado cóctel es ideal para una celebración más elegante. En una coctelera, mezcla 2 onzas de vodka de frambuesa con 1 onza de jugo de limón y hielo. Agita y sirve en copas de martini previamente enfriadas. Decora con una frambuesa en el borde del vaso.
5. Mimosa de granada: Un cóctel ideal para un desayuno o brunch romántico en pareja. En una copa de champagne, vierte 2 onzas de jugo de granada y completa con champagne o cava bien frío. Decora con semillas de granada y una rodaja de naranja.
Estas son solo algunas ideas de cócteles fáciles de preparar para disfrutar este 14 de febrero. Recuerda que lo más importante es compartir momentos especiales con tus seres queridos y brindar por el amor y la amistad. ¡Salud! ¡Salud! ¡Salud! Espero que disfrutes de estas deliciosas recetas de cócteles en el Día de San Valentín. Recuerda siempre beber con responsabilidad. ¡Feliz 14 de febrero! ¡Feliz 14 de febrero! ¡Salud! ¡Feliz 14 de febrero! Con estas opciones de cócteles fáciles de preparar, seguro sorprenderás a tus seres queridos. ¡Salud y disfruta de este día especial! ¡Salud!
and sprinkle with edible rose petals. Enjoy this delicious and romantic Smoothie Bowl with your loved one on Valentine's Day!
Conclusion
Celebrate Valentine's Day in style with these easy and delicious cocktail recipes. Whether you prefer a refreshing Sangria de Granada y Pomelo or a unique Kombucha de Jengibre con Cereza y Naranja Siciliana, these cocktails are sure to impress your partner. And don't forget to indulge in a beautiful Smoothie Bowl with almond milk and rose petals for a sweet and healthy treat. Cheers to a romantic and memorable Valentine's Day!
Roses and Fruits: A Romantic Cocktail Idea for Valentine's Day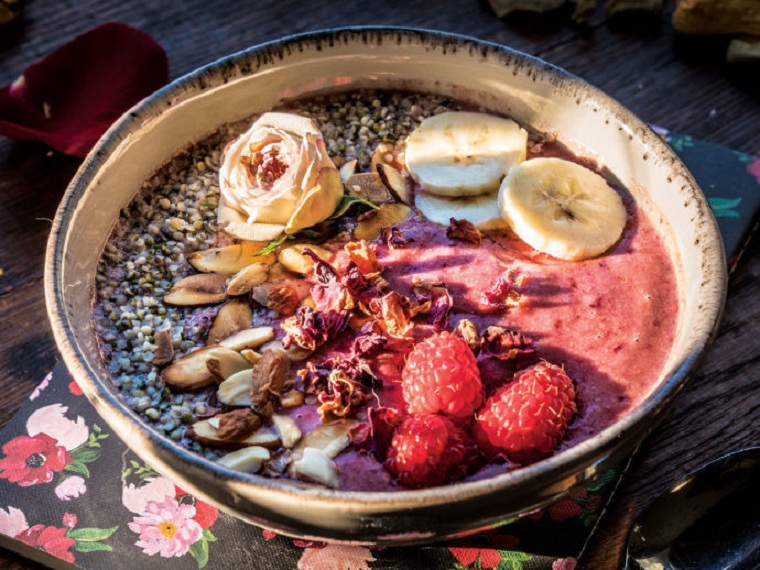 Figgy Sparkler, a Champagne Cocktail Idea for Valentine's Day
After New Year's Eve, February 14th is probably the best time to enjoy a glass of champagne with your partner. For this, try a Valentine's Day cocktail based on this drink. Our suggestion: the Figgy Sparkler.
Figgy Sparkler is a Valentine's Day cocktail based on a blend of fresh cranberries, orange, and dried or fresh figs in an excellent cocktail. The recipe can be made with your favorite vodka or you can choose to infuse it with figs. Fill your drink with champagne, Prosecco, or your favorite sparkling wine. A great idea for a Valentine's Day appetizer drink!
Ingredients for 1 person:
– 1 fig (dried, use fresh when available)
– 2 slices of orange (halved)
– 6 fresh cranberries
– 4.5 cl of vodka
– 4 cl of Prosecco (or any other sparkling wine)
– Garnish: touch of orange
– Dressing: 3 cranberries
Note: Some ingredients, like fresh cranberries and figs, may be harder to find. You can replace them with frozen fruit if necessary. For figs, you can also opt for dried fruits. These will add even more sweetness to your cocktail.
Gather the ingredients. In a shaker, mix the fig, orange, and cranberries with the vodka. Add ice and shake well.
Pour into a champagne flute and top with sparkling wine. Garnish with three cranberries and a touch of orange. Serve and enjoy immediately!
Easy Cocktails for Valentine's Day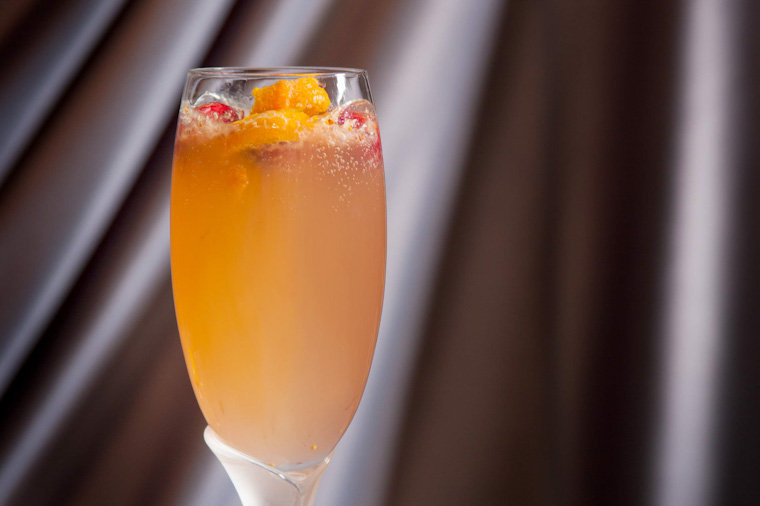 Brogue, a Valentine's Day Cocktail Recipe for Those Who Prefer Drinks with Character
Not everyone enjoys light drinks. Some prefer easy cocktails with character. Well, this suggestion will particularly suit those looking for that option for a Valentine's Day appetizer.
Brogue is an intriguing Valentine's Day cocktail. It is made with Scotch whisky, which is an absolute pleasure to drink. This recipe is very interesting because it consists of mixing the iconic whisky with a touch of floral sweetness.
The recipe for this Valentine's Day cocktail was created by New York mixologist Leo Robitschek from Eleven Madison Park. It was designed to showcase Highland Park Scotch whisky, particularly the brand's 12-year-old single malt, now known as Viking Honor (the 10-year-old Viking Scars is also a good option).
Scotch is paired with Drambuie. But when it gets really interesting is when lavender honey syrup is added to the mix. This is an ingredient you will need to prepare yourself, but it is very easy and will be ready quickly. Use it in this recipe, then enjoy it in other easy lavender syrup cocktails.
Note: Although there are several steps to this recipe, this cocktail is divided into feasible categories to help you better plan the preparation and assembly.
Ingredients for 1 person:
For the lavender honey syrup:
– 1 cup of water
– 1 tablespoon of lavender flowers
– 1/2 cup of white granulated sugar
– 1/2 cup of honey
For the cocktail:
– 4.5 cl of Scotch whisky (Highland Park Viking Honor)
– 1.5 cl of Drambuie
– 2.2 cl of lemon juice
– 1.5 cl of lavender honey syrup
– Garnish: dried lavender (a sprig or loose buds)
Note: Lemon juice is a recommended ingredient to preserve the quality of this Valentine's Day cocktail. To use fresh lemon juice, you only need half of a citrus fruit. The original recipe is made with smoky-flavored Scotch whisky (Highland Park). If you don't like this flavor, you can try a more classic type of whisky.
To make the lavender honey syrup:
Combine the ingredients. In a small bowl, boil the water and add the lavender flowers. Let it steep for a few minutes. Strain the mixture and return it to the bowl. Add the sugar and honey, stirring until dissolved. Let it cool before using.
Lavender Honey Syrup: A Sweet and Refreshing Addition to Your Cocktails
To make this delicious lavender honey syrup, start by adding sugar and honey to a saucepan. Stir until the sugar is completely dissolved and the honey is fully incorporated. Reduce the heat, cover, and simmer for 15 minutes.
Remove the pan from the heat and let the syrup cool completely. Pour it into a bottle and store it in the refrigerator for up to two weeks.
Now, let's move on to making the Brogue cocktail.
In a shaker filled with ice, pour whisky, Drambuie, lemon juice, and lavender honey syrup. Shake well, strain into an old-fashioned glass, and garnish with dried lavender. It's ready to be served and enjoyed!
Sweet, simple, and refreshing, the distinctive flavor of lychee takes center stage in the Red Lotus cocktail. It's a very simple mixed drink that you can quickly whip up and it's becoming a new favorite.
Easy Cocktails for Valentine's Day
Red is the color of passion and love. That's why every year, this color accompanies the celebration on February 14th. For this reason, we offer you a red cocktail idea for the party.
In this Valentine's Day cocktail recipe, sweet lychee liqueur accentuates a combination of vodka and cranberry. It's an interesting flavor play that is intensely sweet and delicately refreshing. It's also a little different from many favorite easy vodka cocktails. And that's what makes it an excellent drink to break any routine!
Ingredients for 1 person:
– 4.5 cl of vodka
– 4.5 cl of lychee liqueur
– 4 cl of cranberry juice
Note: This red cocktail has a strong and pronounced floral flavor. For this reason, you can opt for a medium-quality vodka that still has a good quality drink taste. A good decoration idea for this cocktail would be pitted lychee fruits. For an even more elegant version, you can try filling lychees with cranberries or blueberries.
Preparation:
Gather the ingredients. Pour the ingredients into a shaker with ice. Shake well.
Strain into a chilled glass filled with ice. Serve and enjoy!
Easy Cocktails for Valentine's Day
Chocolate Coconut Hot Chocolate
Ingredients:
– 2 cups (500 ml) of coconut milk
– 1/4 cup (60 ml) of unsweetened cherry juice
– 2 tablespoons (30 ml) of coconut sugar
– 3 tablespoons (45 ml) of finely chopped or grated dark chocolate
– 2 tablespoons (30 ml) of raw cacao or cocoa powder
– 2 tablespoons (30 ml) of unsweetened toasted coconut flakes
Preparation method:
In a medium saucepan over medium heat, stir the milk, juice, sugar, dark chocolate, and cacao or cocoa powder until dissolved and it becomes a homogeneous drink. Pour into cups, garnish with coconut flakes, and serve.
Roses and champagne are perhaps the most tried and true attributes of any romantic pastime. From traditional dinners to trying to surprise your partner. When there are roses and champagne, absolutely any night can become romantic. And going back to the surprise: after making them a cocktail, they will be pleasantly surprised.
Ingredients:
– 2 cups of sugar
– 2 tablespoons of honey
– 1/2 cup of mint leaves
– 4 tablespoons of lemon juice
– 1 cup of rose petals
– Brut champagne or sparkling wine
Since this is not a traditional cocktail, you need to work on its preparation a little more than usual. Place a small saucepan over medium heat and add sugar, honey, and a glass of water. Once the sugar has melted, add the mint leaves and simmer, stirring occasionally, on low heat for about 30 minutes. Turn off the heat, strain, and return the liquid to the pan. Add the lemon juice and crushed rose petals, stir, and refrigerate for 40 minutes. The pink syrup is ready. Add two tablespoons of syrup to a glass jar, pour champagne or sparkling wine on top, and chill for a little longer. Pour into glasses, garnish, and enjoy!
Delicious and Romantic Valentine's Day Cocktails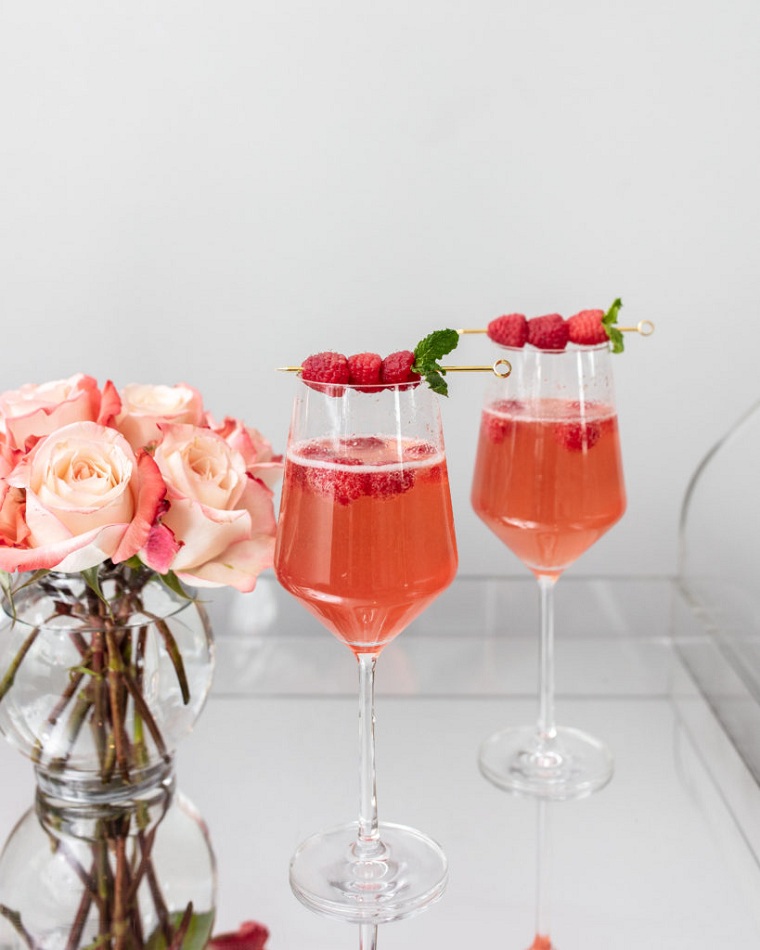 Love is not only something to be taken seriously and slowly, but also something quick and passionate. Just like a kiss, the speed doesn't affect its loving component. So why not spice up your dinner with a romantic cocktail that delivers a quick yet sensual shot straight to the heart, like Cupid's arrow?
Ingredients
Licor de cereza 30 ml
Licor de naranja 30 ml
Licor de crema 30 ml
Pour the cherry liqueur into a tall cocktail glass, layer the orange liqueur on top, and finish with a layer of cream liqueur. Some bartenders claim that this drink is perfect for dates, but they also classify it as an "intimate beverage." So if you decide to go to a bar, save this one for when you get back home. It's a great way to end the night.