Espíritu navideño en la decoración al aire libre – Ideas inspiradoras
El espíritu navideño se respira en cada rincón durante la época de Navidad. Las calles se iluminan con luces de colores, los escaparates se llenan de decoraciones festivas y los hogares se transforman en un verdadero paraíso navideño. Pero no solo el interior de nuestras casas merece ser adornado, también el exterior puede convertirse en un espacio mágico que refleje la alegría y el espíritu de la Navidad. En este artículo, te presentaré algunas ideas inspiradoras para decorar al aire libre durante estas fechas tan especiales.
Una de las formas más tradicionales de decorar el exterior de la casa es colgar luces navideñas. Puedes utilizar luces de colores o incluso luces blancas para crear un ambiente acogedor. Colócalas alrededor de las ventanas, puertas y tejados, creando formas y diseños originales. También puedes añadir figuras luminosas como renos, ángeles o Papá Noel para dar un toque festivo.
Otra idea es utilizar plantas como elemento decorativo. Coloca macetas con poinsettias rojas en la entrada de tu casa, o crea arreglos florales con ramas de pino, piñas y lazos rojos. Estos detalles naturales le darán un toque elegante y cálido a tu decoración navideña.
Si tienes espacio en tu jardín, puedes crear un rincón especial dedicado a la Navidad. Coloca un árbol de Navidad al aire libre decorado con bolas, lazos y guirnaldas. Añade algunos regalos envueltos en papel de colores y colócalos bajo el árbol. También puedes colocar un muñeco de nieve o un nacimiento para completar la escena navideña.
Otra opción original es utilizar proyecciones luminosas en la fachada de tu casa. Estas proyecciones crean imágenes en movimiento de copos de nieve, Papá Noel o renos, y le darán un toque mágico a tu decoración. Además, son fáciles de instalar y no requieren mucho espacio.
No podemos olvidarnos de la entrada de la casa. Coloca una corona navideña en la puerta principal para dar la bienvenida a tus invitados. Puedes hacerla tú mismo utilizando ramas de pino, lazos y bolas navideñas. También puedes añadir un felpudo con diseños navideños y un pequeño árbol de Navidad en maceta.
En resumen, la decoración navideña al aire libre puede ser tan hermosa y atractiva como la del interior de la casa. Con luces, plantas, figuras y pequeños detalles, puedes convertir tu exterior en un verdadero paraíso navideño. Inspírate en estas ideas y deja que el espíritu navideño se apodere de tu hogar. ¡Feliz Navidad! ¡Feliz Navidad! ¡Que el espíritu de la navidad llene tu corazón y tu hogar! Que tengas una Navidad llena de alegría y amor. Que la magia de la Navidad ilumine cada rincón de tu hogar y te llene de felicidad. Que esta temporada sea un tiempo de paz, amor y unidad para ti y tus seres queridos. ¡Feliz Navidad! ¡Que brilles con la magia de la Navidad y que todos tus sueños se hagan realidad en esta temporada! Que el espíritu navideño te llene de alegría y amor en cada momento. Que la paz y la felicidad sean los regalos más preciosos que recibas en esta Navidad. ¡Felices fiestas y próspero año nuevo!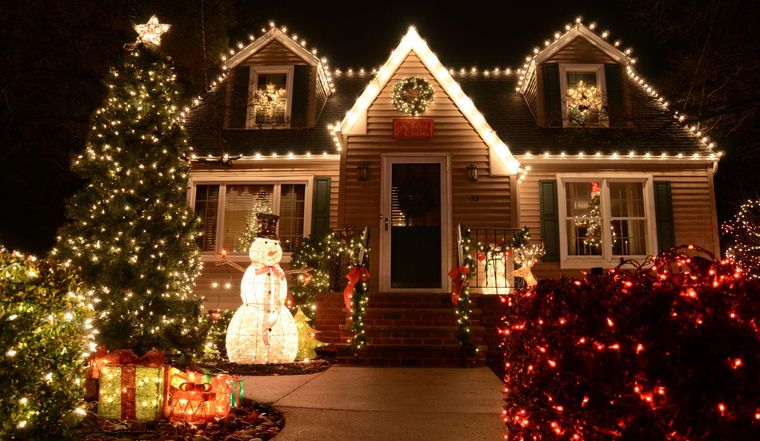 The Christmas spirit makes the winter holidays a wonderful time. Undoubtedly, this is the most joyful season of the year. The Christmas spirit makes us happier and decorate both the interior and exterior of our homes with cheerful Christmas colors.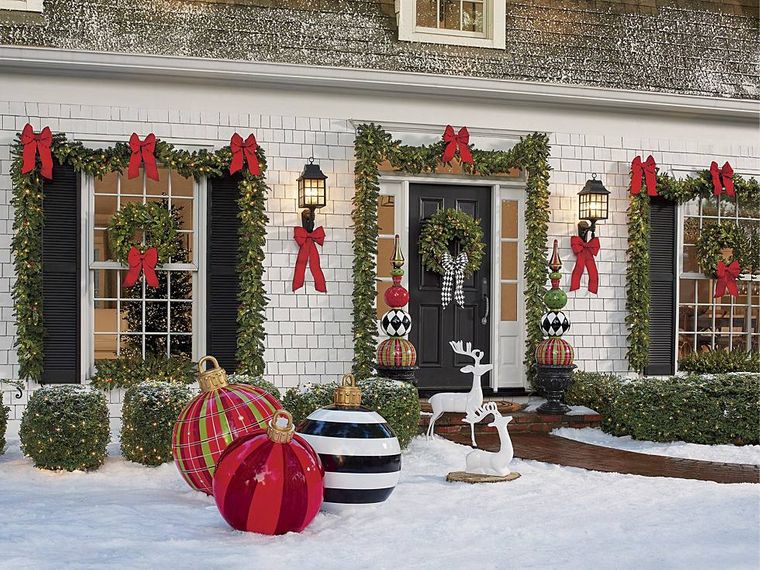 This time, we bring you images and ideas for outdoor Christmas decoration. It doesn't matter if you are a beginner or a professional decorator. The important thing is that it's time to start planning your outdoor Christmas decoration. Today's outdoor Christmas decorations offer ideas for all tastes.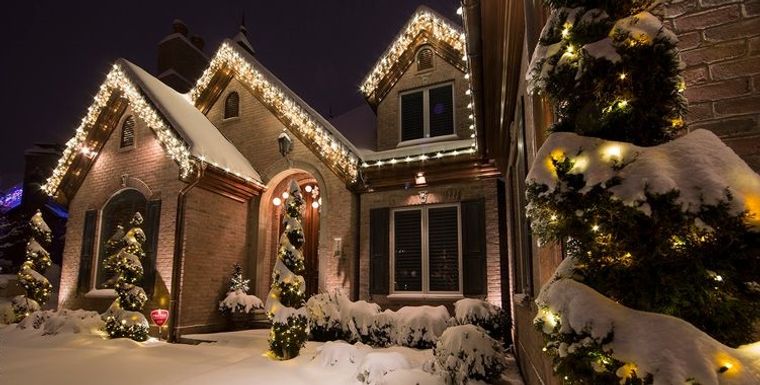 It doesn't matter if you love an elegant or extravagant decoration. Or if, on the contrary, you prefer something intermediate or simple, you will always find a perfect decoration for your outdoor with a lot of Christmas spirit. Flashing lights, natural vegetation with ornaments, or any festive element will make you get into the Christmas spirit.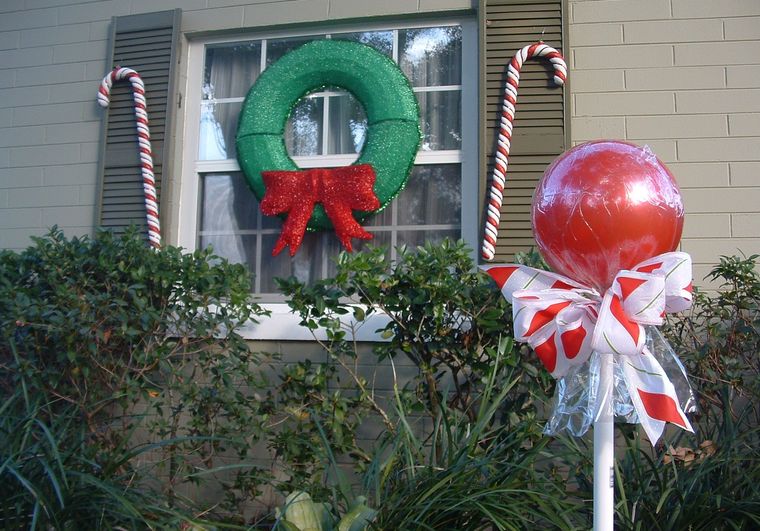 Decoration with Christmas Spirit
There are endless ways to make any exterior or interior of the home stand out and perfect for this beautiful time of year. But, did you know that outdoor Christmas decoration has a long history? People have been celebrating Christmas with trees, ornaments, wreaths, and candles for hundreds of years.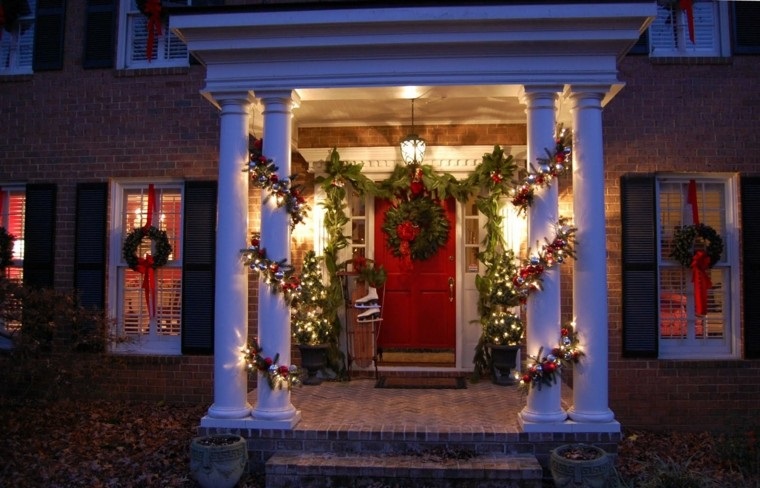 But this trend gained great momentum in the mid-19th century when some publications showed Queen Victoria with her family gathered around a lit Christmas tree. The first lit Christmas tree with electric lights was presented at the White House by President Grover Cleveland in 1895.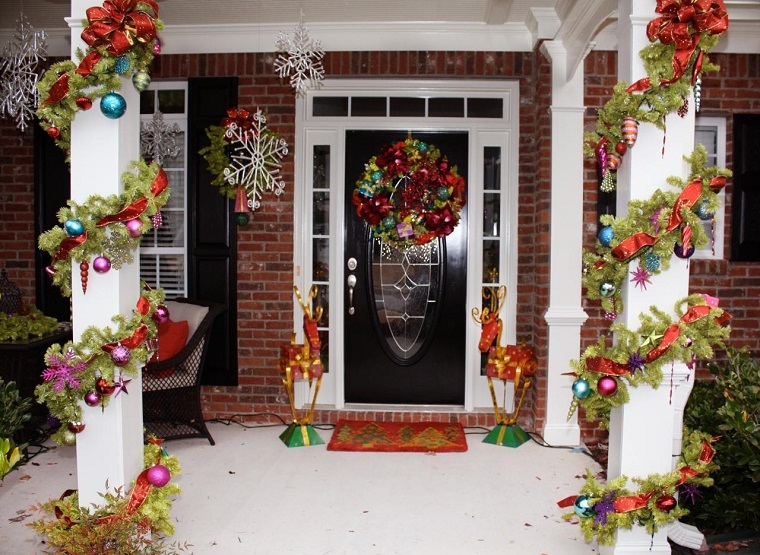 But it is worth mentioning that these first lights that came on the market were somewhat expensive, not to mention the fact that most houses still did not have electricity by then. By the 1920s, Christmas lights were a little more affordable and also a little safer, so they were available.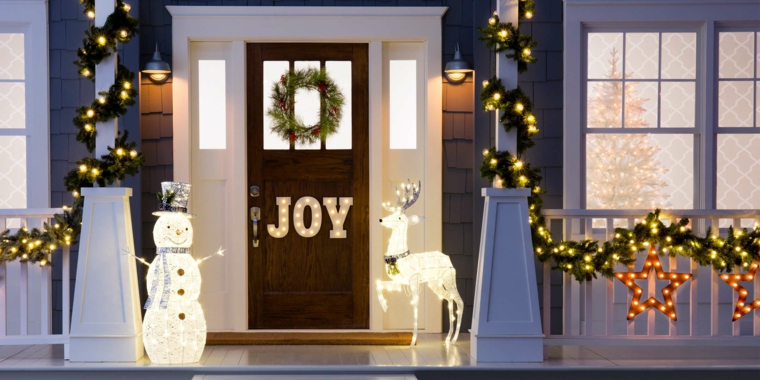 Of course, as more homes had electricity, the practice of placing and decorating with Christmas lights became much more common. First, lights were put on trees, but it didn't take long for people to start hanging outdoor lighting to decorate their homes with Christmas spirit.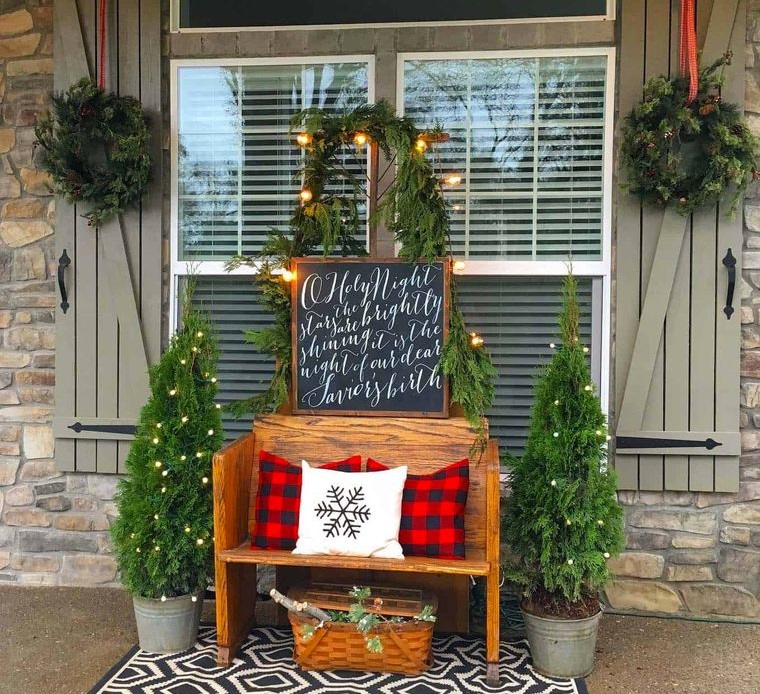 Obviously, as outdoor lighting became much safer and designs for Christmas decoration became more creative, some people's Christmas spirit went from discreet and subtle to a bit more outrageous. Certainly, outdoor lighting and Christmas decoration are an attraction for anyone.
Get Inspired with Outdoor Christmas Decoration Ideas
Luckily, outdoor Christmas decorations inspire people to get creative and come up with unique ideas. You can always find amazing ideas to decorate your outdoor space with festive spirit, regardless of your style and preference.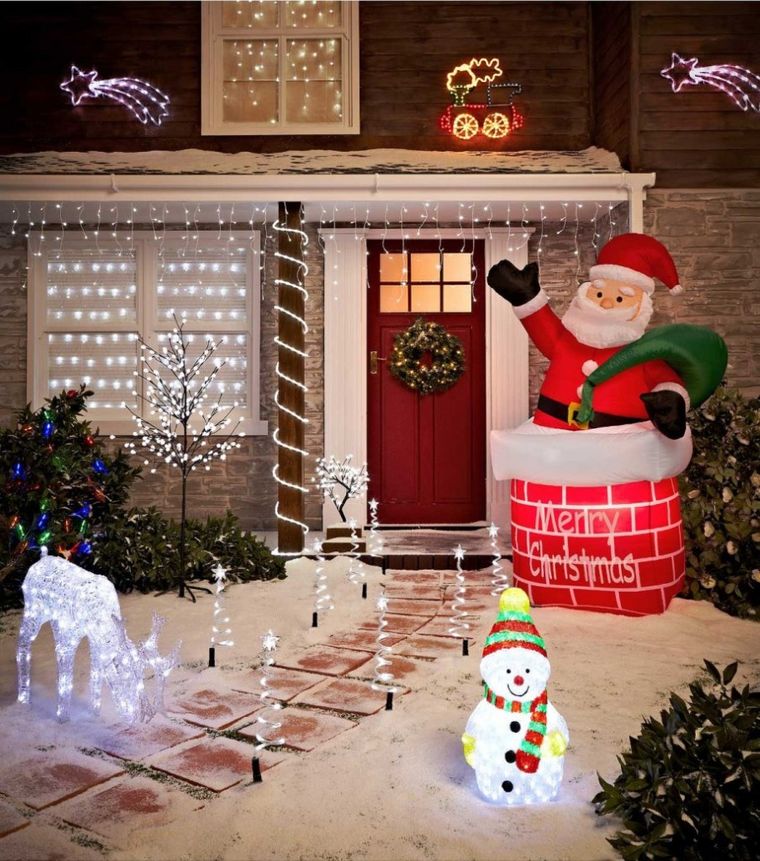 When it comes to showcasing your Christmas spirit with outdoor decorations, the options are endless. You can choose a simple and elegant style or go all out and illuminate every corner of your outdoor space. There are many ways to decorate with festive spirit, and we will provide you with some tips to get started on your outdoor Christmas decoration while you browse through the images for inspiration.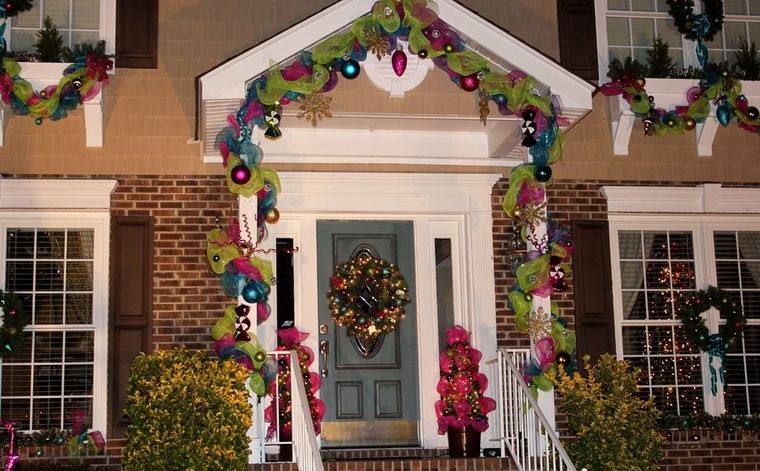 Homes with stunning Christmas decorations are not a coincidence. They are the result of a well-planned design that incorporates all the elements you desire. However, you don't need a complicated and lengthy plan. A little planning will help you achieve a minimalist or extravagant look for your outdoor Christmas decoration.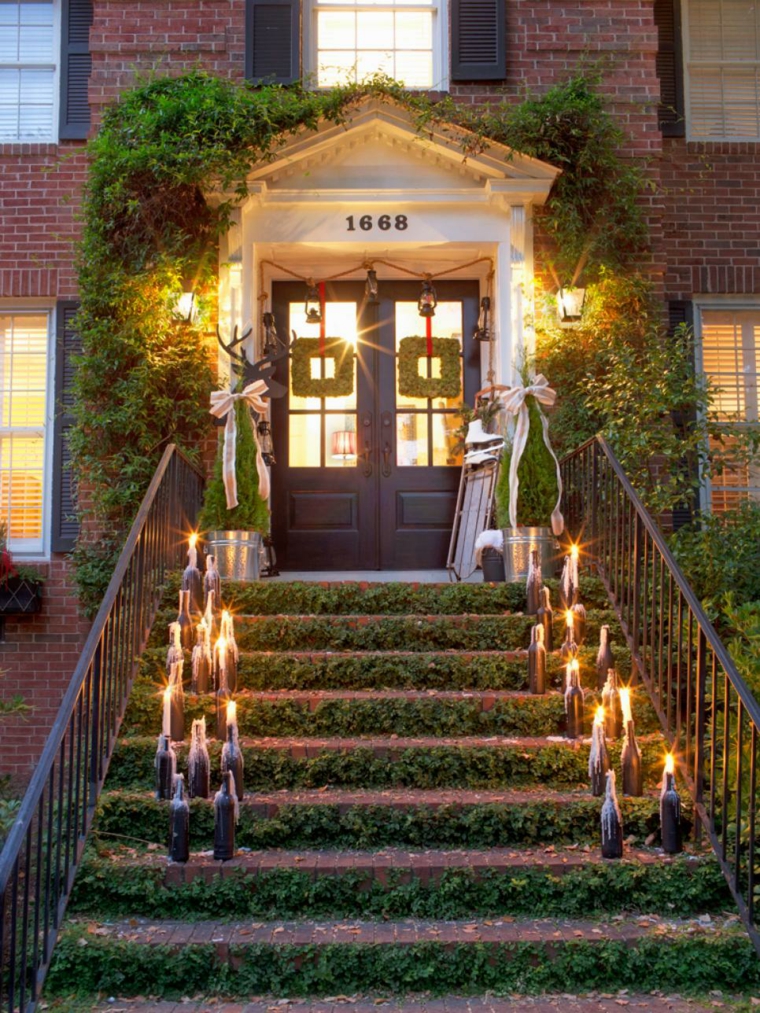 Seek Christmas Inspiration
The easiest way to find inspiration for decorating the exterior of your home is by looking at images, just like the ones we have shown you. You can also take a look at your neighbors' decorations. This will not only inspire you, but also give you great ideas to copy or mix and match.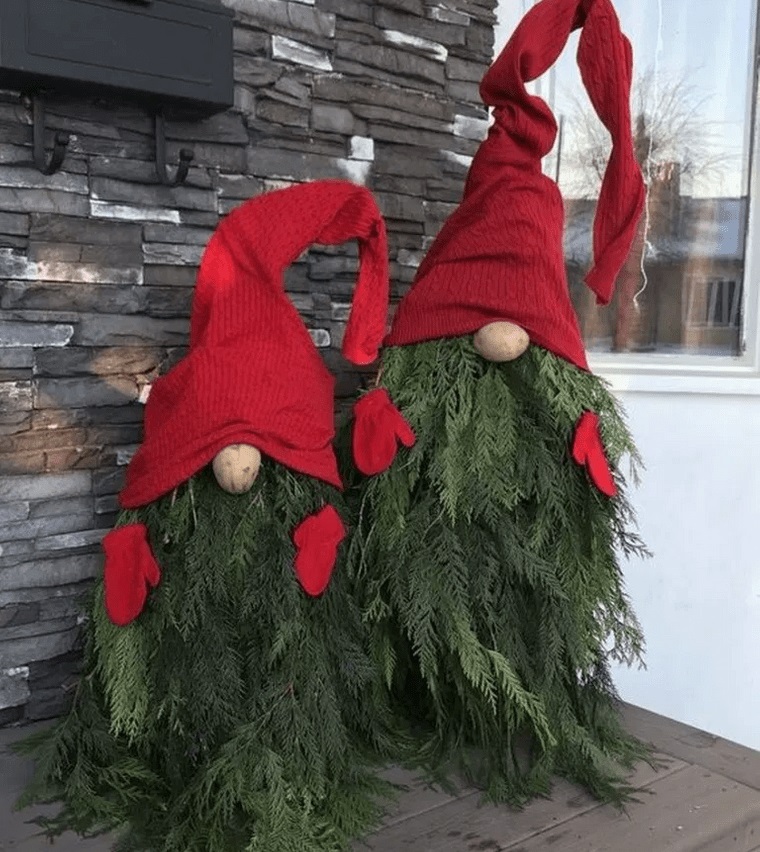 This is an excellent starting point for planning your outdoor decoration. There are many options available for finding inspiration, including magazines that showcase various outdoor decorations.
Despite the different styles of outdoor Christmas decorations, there are common elements that are often present. We will provide you with some ideas and accessories to consider for your outdoor Christmas decoration, which can also be used for decorating the interior of your home.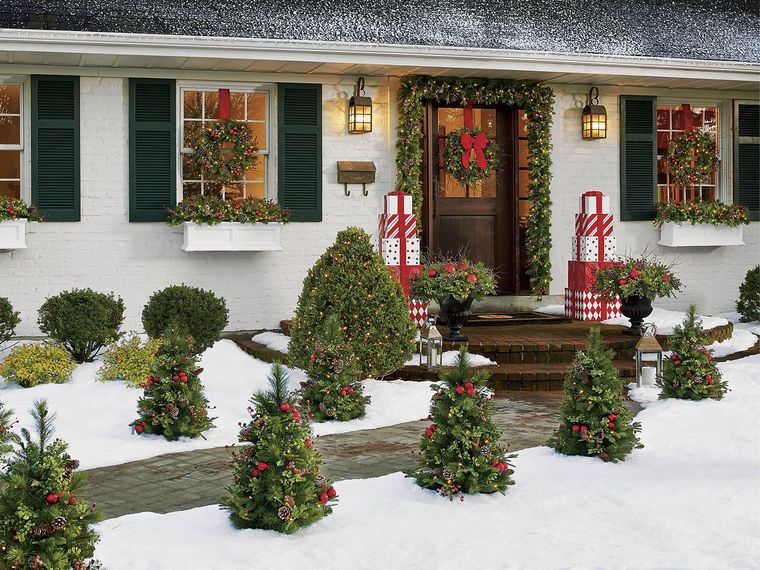 Wreaths and Garlands
Wreaths and garlands are classic elements in Christmas decoration, and for good reason. The advantage of these elements is that they can create a big impact with minimal effort. With a simple wreath hanger, you can easily hang and remove your wreath whenever you want.
Similarly, with the help of zip ties or wire, you can decorate your porch or railings with garlands in just 10 or 15 minutes. The instant transformation that these elements provide makes them very popular. However, they don't always have to be simple or ordinary.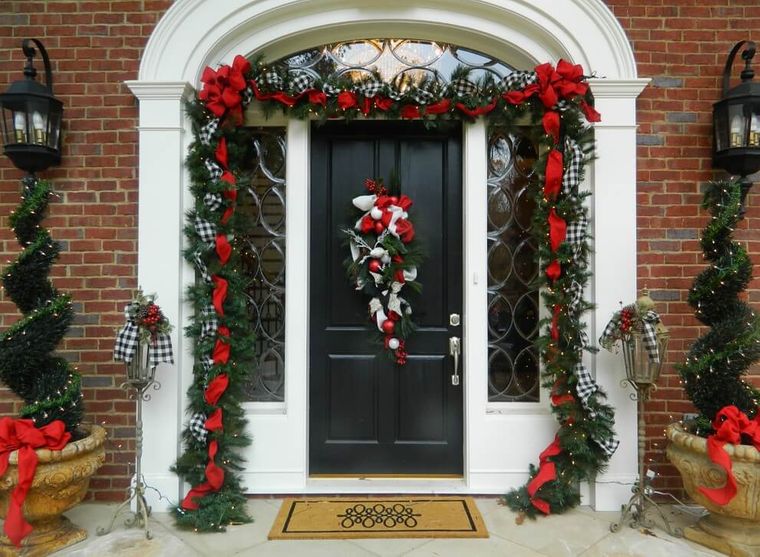 P rnrnYou can consider adding electric Christmas lights and decorations. You could even place wreaths and garlands that have battery-powered lighting. Remember that outdoor Christmas decoration will add sparkle, color, and highlight your Christmas spirit.
Adding artificial Christmas flowers, such as poinsettias or winter berries, is undoubtedly an excellent addition. Similarly, ribbons can add color. While the addition of spray snow can add a frosty and wintry feeling.
Ribbons and Christmas ornaments are also some of the most popular materials or elements of Christmas decoration. This is because ribbons and ornaments also allow you to add bright colors, as well as glitters and sparkles to wreaths, garlands, and other outdoor decoration elements.
You can find ribbons in all kinds of materials. Even with wire edges, so you can shape them to create attractive focal points. Ribbons can be solid, striped, checkered, patterned, metallic, and even shiny. Similarly, many ribbons are made for outdoor use.
Which means they can withstand the weather without fading. It is worth mentioning that these ribbons for outdoor decoration are usually a little wider than regular craft ribbons. This also makes the decoration a little more visible from a distance. With the various options of Christmas ribbons available, you will have no trouble choosing the right one for your dream Christmas decoration.
As for the ornaments, they are equally versatile. For outdoor Christmas decoration, make sure to choose ornaments made of plastic or all-weather materials. Many outdoor ornaments are large-sized with sturdy hooks. Obviously, this is to be appreciated from a distance. Although you can also place smaller ornaments if you wish.
Pinecones, branches, berries, and other natural elements are great for highlighting the Christmas spirit both inside and outside your home. You could also include artificial reindeer, deer, bears, or birds in your outdoor decoration. You can even attract birds to your garden with the help of seeds and bird feeders if you prefer.
On the other hand, plastic bears and deer lend themselves a little more to a rustic Christmas theme. You can place large or small images or figures as ornaments on wreaths, garlands, blankets. Even in pots to give a cabin-like decoration look.
Decorations inspired by candy canes and peppermint are also a great idea. In the winter season, any element with red and white stripes automatically refers to Christmas. So you can easily wrap the columns of your entrance or light poles. And even the railings with red and white. You can also use candy canes or peppermint in your wreaths and garlands. It is undoubtedly a very fun way to add Christmas spirit.Add a Festive Touch to Your Outdoor Decor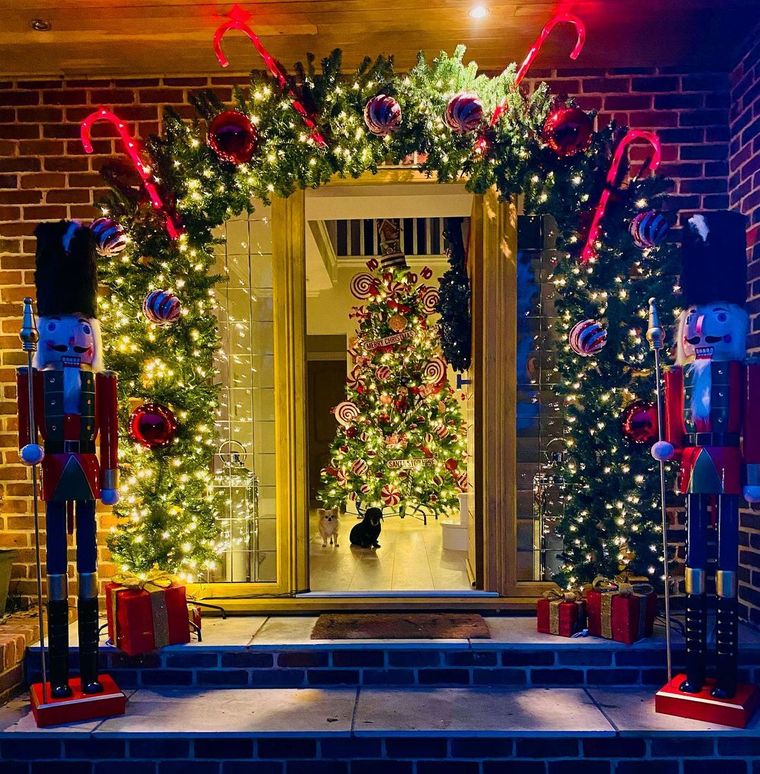 Santa and Mrs. Claus
Of course, wherever Santa or Mrs. Claus are, it screams Christmas. But you don't have to place these characters in every corner of your outdoor decor. In fact, it's best to avoid going overboard, unless you want an extremely extravagant and exaggerated Christmas decoration style. So, it's recommended to limit yourself to using just one Santa in your outdoor decor.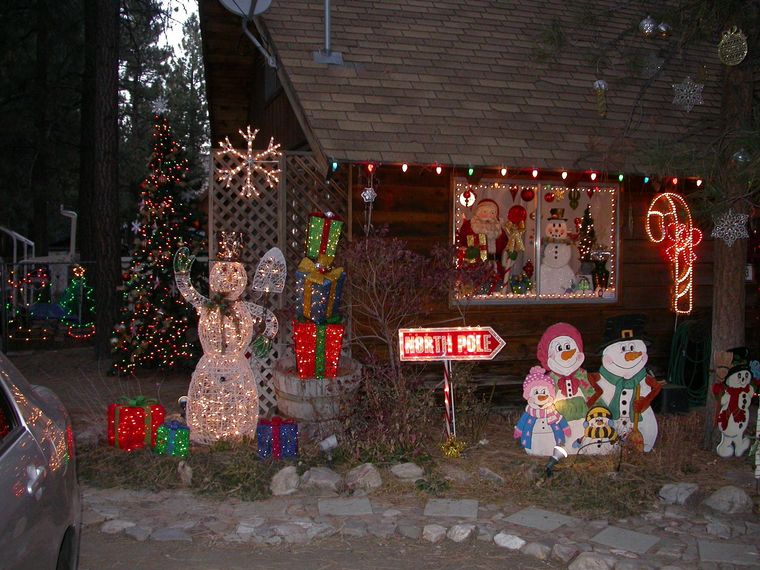 Inspiration from Packages and Gifts
Drawing inspiration from packages and gifts, you can easily change the look of things like your electric meter by wrapping it up like a present. Similarly, if your front door is a color that doesn't go well with your decor, you can cover it with gift wrap and a beautiful Christmas ribbon.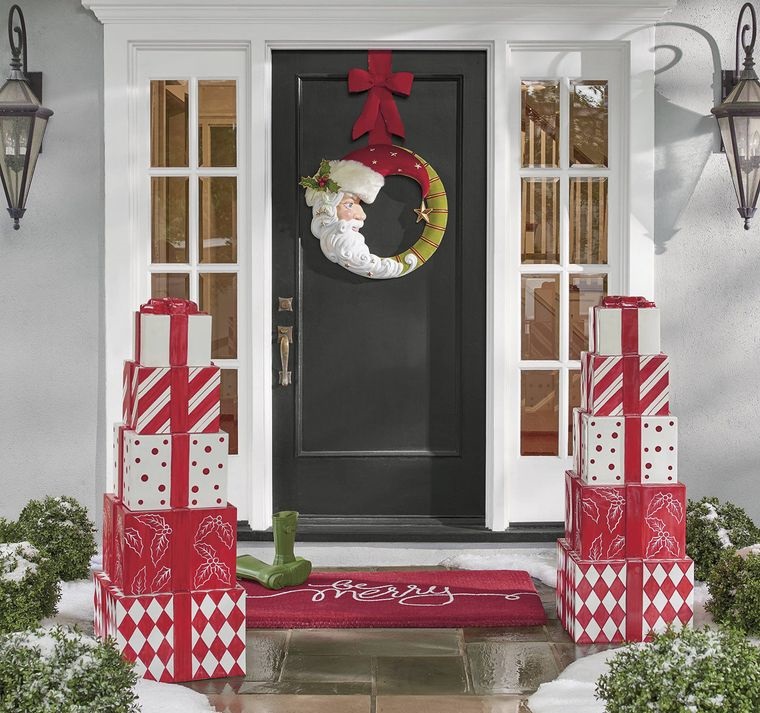 If you have empty pots or planters, you can place a variety of packages and bows in them. Piling up gifts in your garden or porch is a fun way to add color and interest to your outdoor decor. Just make sure that your boxes, gift wrap, and ribbons can withstand the weather elements.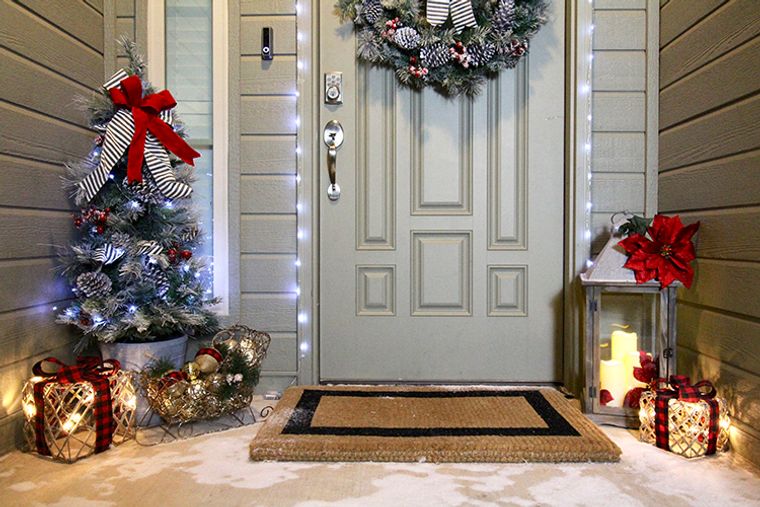 Candles and Lanterns
Christmas is undoubtedly a time when nights are always illuminated with joy. That's why candles, lanterns, and even electric string lights are always considered in Christmas decorations. While candles and lanterns may not twinkle like electric Christmas lights, they can still add elegance and charm to your indoor and outdoor decor with a festive spirit.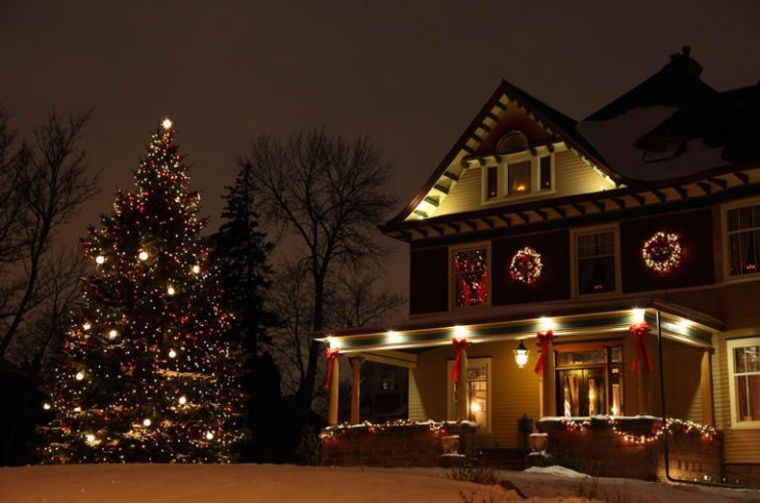 Electric candles or battery-operated ones are a great option for placing in windows. Lanterns, on the other hand, have a traditional Christmas touch. While wax candles work well inside a lantern, battery-operated votives can be much easier to handle. Plus, the protection provided by the lantern keeps the candle batteries away from the weather elements.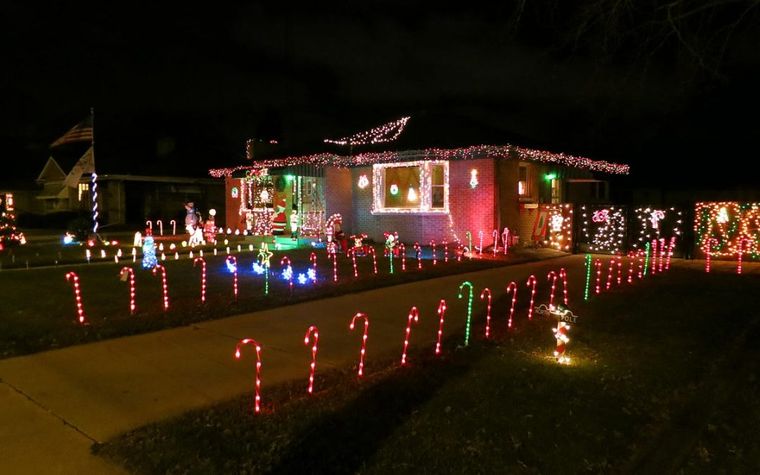 Decorating the Exterior of Your Home with a Festive Spirit
The front doors receive a lot of attention during the holiday season. But you shouldn't limit your Christmas decor to just the main entrance door. If you have a back door or even a garage door, you can decorate them with beautiful wreaths too.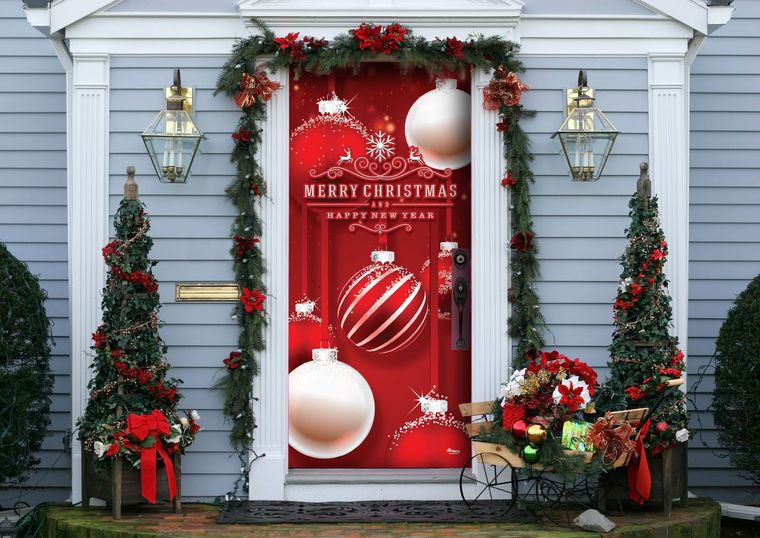 After all, you see both the front and back doors, as well as the garage door, every day. And there's nothing better than seeing them decorated with a festive spirit. Even the sidewalks and driveways around your home can look extra special during Christmas.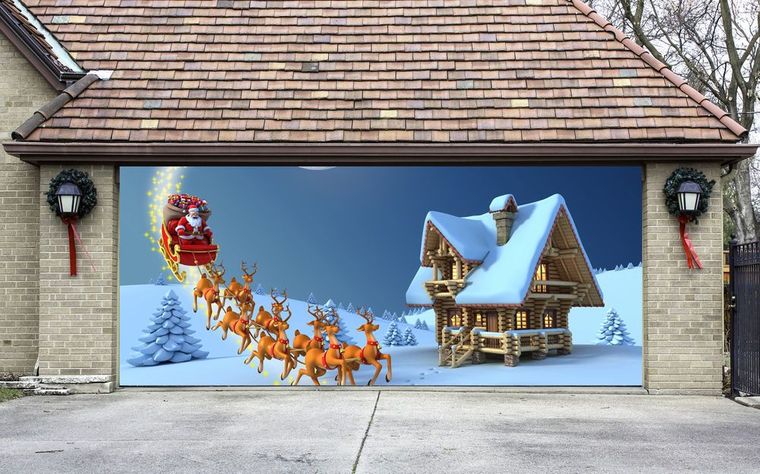 You can achieve this by placing lanterns, lights, or small decorated evergreen trees. Roof lights are also a Christmas classic. But keep in mind that it can be a bit dangerous. So, be cautious when decorating the roof of your home with lights.
Cuando se trata de decorar tu hogar para la temporada navideña, es importante tomar todas las precauciones y medidas de seguridad disponibles. Incluso puedes pedirle a alguien que te acompañe para que te ayude a sostener la escalera mientras subes y bajas. Los porches y las terrazas son el lugar perfecto para la decoración navideña, ya que suelen ser el escenario de muchas reuniones familiares y con amigos.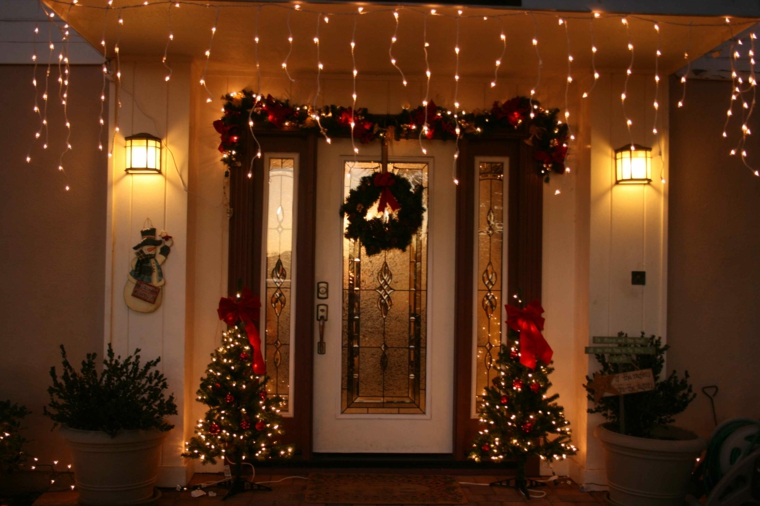 Si tienes columpios, mecedoras o sillas en tu porche, puedes cubrirlos con mantas y almohadas con motivos navideños. Además, puedes colocar flores de Pascua, guirnaldas en los postes y, por supuesto, no olvides las luces. Piensa en el estilo navideño que te gustaría tener y considera los elementos de exteriores que funcionarían en tu decoración al aire libre.