Cortes de pelo para mujeres de 50 años – Encuentra el mejor estilo
Cortes de pelo para mujeres de 50 años – Encuentra el mejor estilo
A medida que las mujeres entran en la década de los 50, es común que quieran actualizar su estilo y verse más jóvenes y modernas. Una excelente manera de lograr esto es a través de un corte de pelo adecuado que destaque sus rasgos y las haga sentir seguras y radiantes. A continuación, exploraremos algunos de los mejores estilos de cortes de pelo para mujeres de 50 años.
Un corte bob es una opción muy popular para las mujeres de esta edad. Este estilo es versátil y puede adaptarse a diferentes formas de rostro y texturas de cabello. El bob puede ser llevado en diferentes longitudes, desde justo debajo de la barbilla hasta un poco más corto. Este corte ayuda a resaltar los pómulos y la mandíbula, lo que a su vez puede crear una apariencia más juvenil.
También puede optar por un corte pixie si está buscando una apariencia más audaz y moderna. El pixie es un corte corto que resalta los rasgos faciales y puede ser muy favorecedor para las mujeres de 50 años. Al igual que el bob, el pixie es versátil y puede personalizarse según el gusto personal y el tipo de cabello. Este corte puede ser ideal para aquellas mujeres que están dispuestas a experimentar con su estilo y quieren lucir con confianza y sofisticación.
Si tu cabello es naturalmente rizado, considera un corte corto y despeinado. Este estilo acentuará tus rizos naturales y les dará una apariencia más juvenil y fresca. Un corte corto y despeinado también es de bajo mantenimiento, lo que es una ventaja para las mujeres ocupadas que no quieren pasar mucho tiempo peinándose.
Para las mujeres que prefieren mantener su cabello más largo, un corte en capas puede ser una excelente opción. Los cortes en capas agregan movimiento y volumen al cabello, lo que puede ser especialmente beneficioso para las mujeres con cabello fino o adelgazamiento. Este estilo puede ser muy favorecedor y versátil, ya que puede lucirse suelto o recogido en un elegante moño o cola de caballo.
Es importante tener en cuenta que cada mujer es única y que el estilo de corte de pelo debe adaptarse a su personalidad, estilo de vida y gustos personales. Antes de tomar una decisión, es recomendable consultar a un estilista profesional que pueda ayudarte a elegir el corte de pelo que mejor se adapte a tus necesidades y rasgos faciales.
En conclusión, los cortes de pelo para mujeres de 50 años pueden ser diversos y versátiles. Desde el clásico bob hasta el atrevido pixie, pasando por cortes cortos y despeinados o elegantes capas, hay una amplia variedad de estilos para elegir. Lo más importante es encontrar un corte de pelo que te haga sentir segura y radiante, y que resalte tu belleza y personalidad en esta etapa de la vida. Algunos cortes de pelo populares para mujeres de 50 años incluyen el bob, el pixie, el corto y despeinado, y el corte en capas. Es importante que cada mujer elija un estilo que se adapte a su personalidad, estilo de vida y gustos personales. Se recomienda consultar a un estilista profesional antes de tomar una decisión. Lo más importante es encontrar un corte de pelo que haga sentir a la mujer segura y radiante, resaltando su belleza y personalidad en esta etapa de la vida. Es importante destacar que estos estilos son solo sugerencias y que cada mujer es única, por lo que es importante encontrar el corte de pelo que mejor se adapte a tus necesidades y preferencias personales. Recuerda siempre consultar a un estilista profesional que pueda ayudarte a tomar la mejor decisión.
¿Sabías que después de cumplir 50 años puedes lucir un peinado increíble y elegante? No tienes que ocultar tu edad, ¡debes estar orgullosa de ella! En este artículo te mostraremos los mejores cortes de pelo para mujeres de 50 años, para que puedas lucir hermosa y segura de ti misma.
Cortes de pelo para mujeres de 50 años: las canas están muy de moda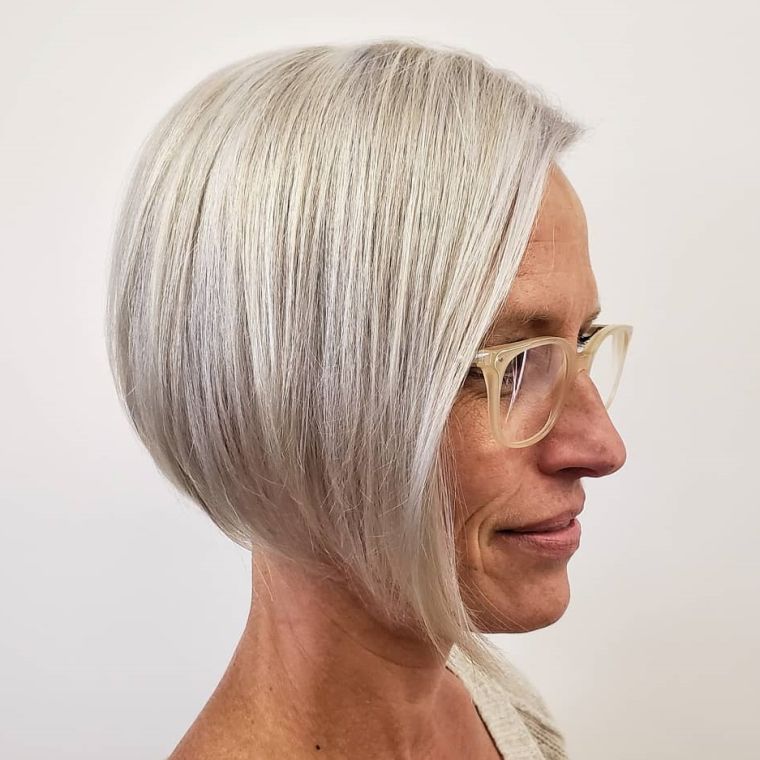 Es común pensar que las mujeres maduras deben optar por cortes de pelo más cortos. Sin embargo, muchas celebridades envejecen con gracia luciendo el cabello largo. La verdad está en algún punto intermedio: puedes lucir hermosa con cortes de pelo para mujeres de 50 años de longitud media o larga, adaptándolos a tus gustos personales.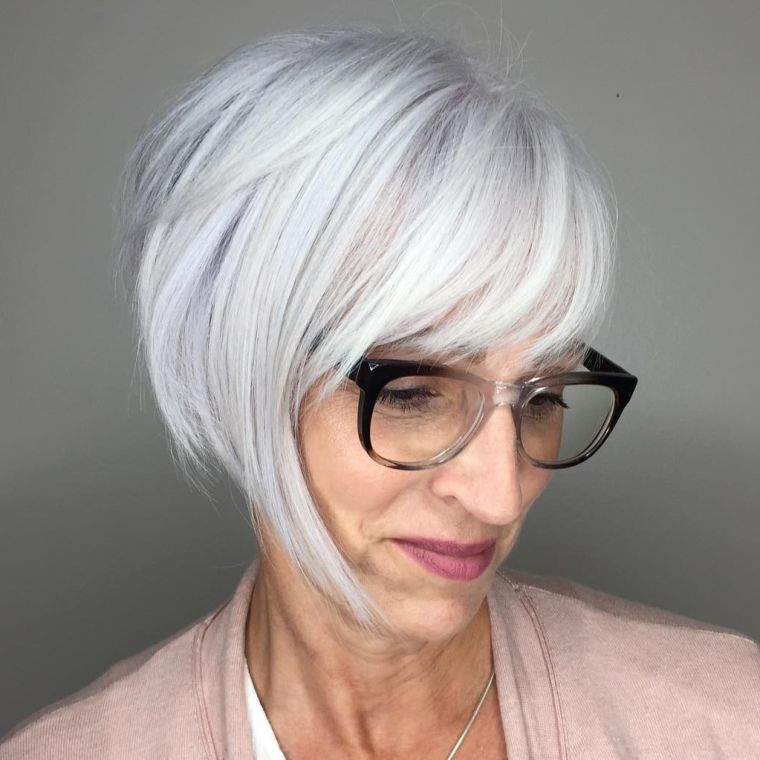 ¿Cuándo deberías optar por cortes de pelo para mujeres de 50 años cortos? Si notas que tu cabello se vuelve más delgado y débil, tiene sentido optar por un peinado más corto. Al recortar las puntas dañadas, tu cabello lucirá más saludable. Además, al cortarlo, será más fácil darle volumen. Recuerda que también puedes optar por un peinado de longitud media o larga.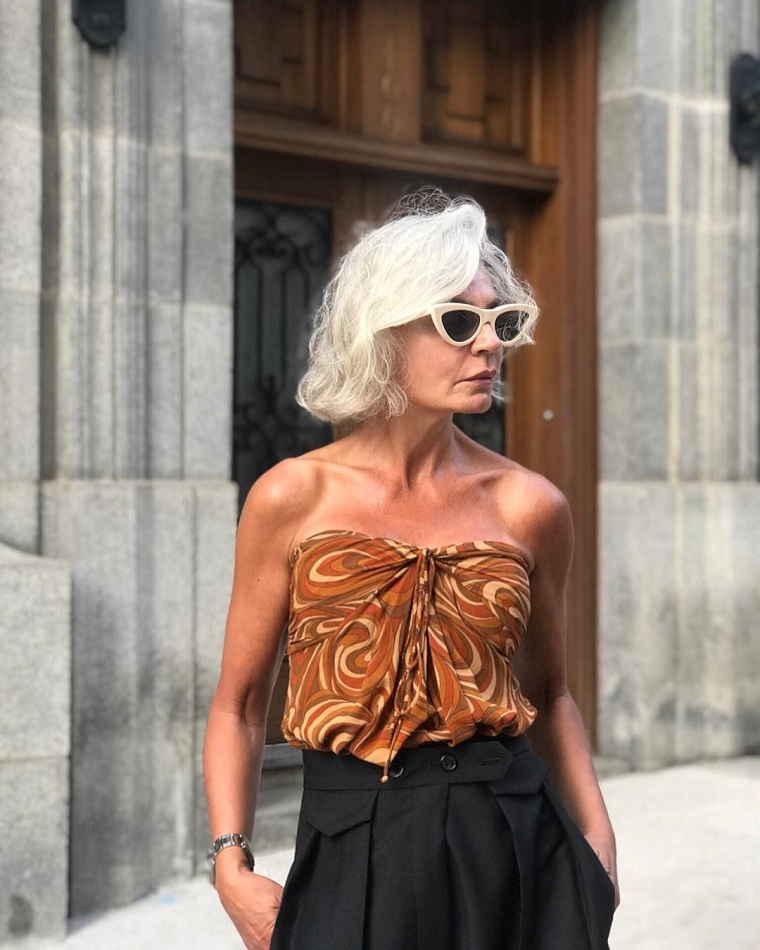 ¿Qué sucede con el cabello a medida que envejece?
A medida que envejecemos, la producción de melanina en nuestro cuerpo se ralentiza, lo que hace que el cabello pierda su color y parezca gris. Además, las canas suelen ser más secas y quebradizas debido a la disminución de la producción de grasa en el folículo piloso.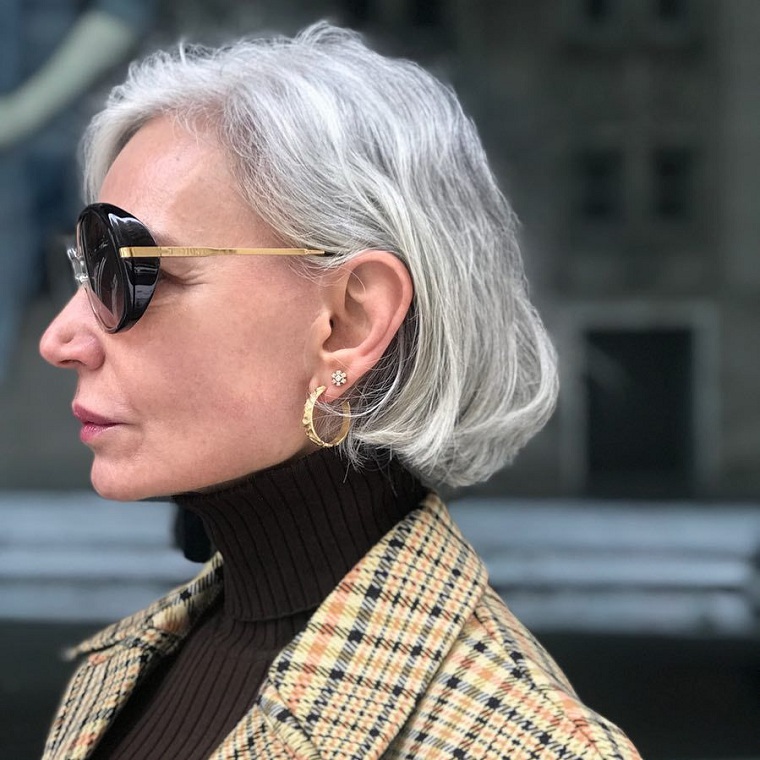 El proceso de envejecimiento también afecta la textura del cabello, volviéndolo quebradizo, áspero y encrespado. Cuanto más largo es el cabello, más evidente se vuelve este cambio.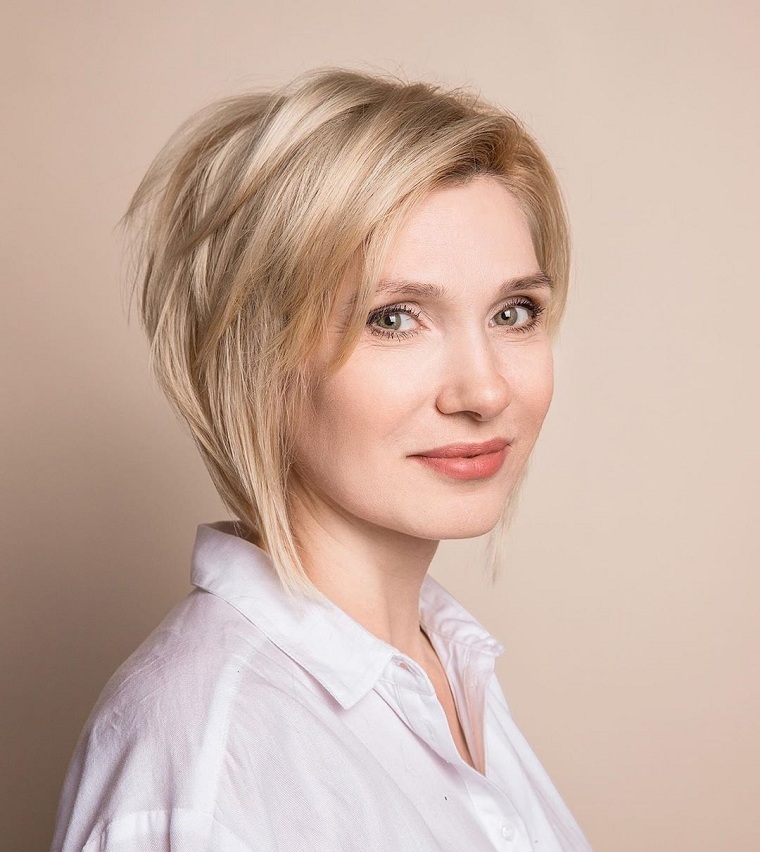 A medida que el cabello envejece, puede volverse más difícil de manejar. Por eso muchas mujeres optan por cortarlo, ya que requiere menos mantenimiento y les da una apariencia más juvenil. Además, el cabello corto puede disimular los efectos del envejecimiento, dando la ilusión de un cabello más abundante y grueso.
Tendencias en peinados y cortes de pelo para mujeres de 50 años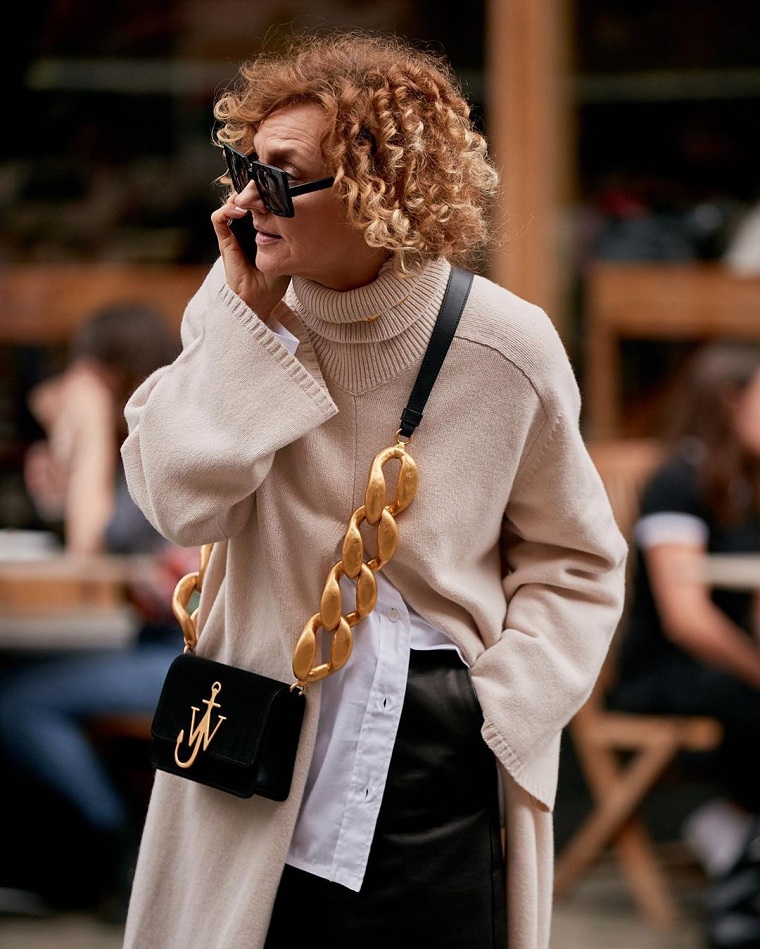 ¿Qué debemos considerar?
Antes de realizar cualquier cambio de cabello, es importante tener en cuenta varios factores. Además de considerar si el corte se adapta a tu textura y grosor de cabello, también debes tener en cuenta otros aspectos al optar por un corte más corto.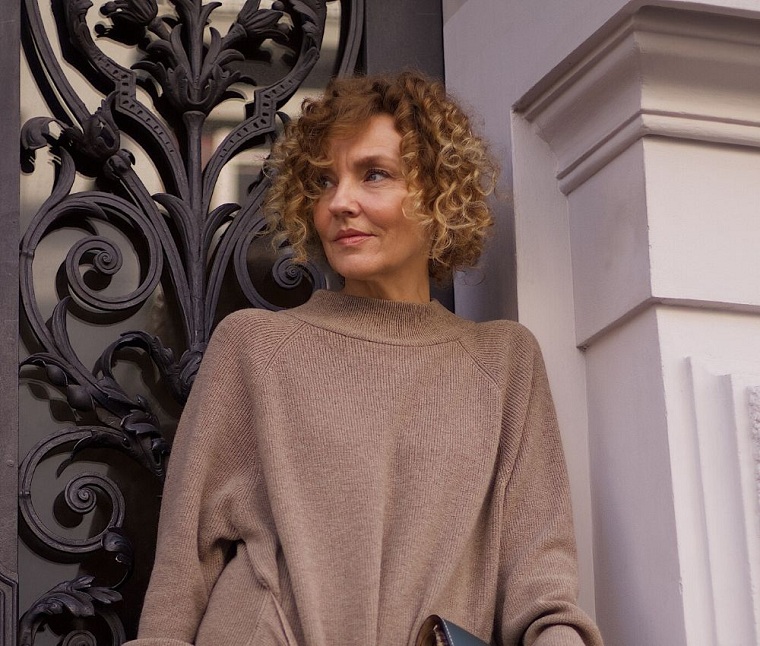 Are you tired of constantly styling your short hair? Well, as a general rule, short hair tends to require more frequent styling than longer hair, and the overall need for maintenance tends to be higher. But don't worry, we've got some tips to make your short hair routine easier and more enjoyable!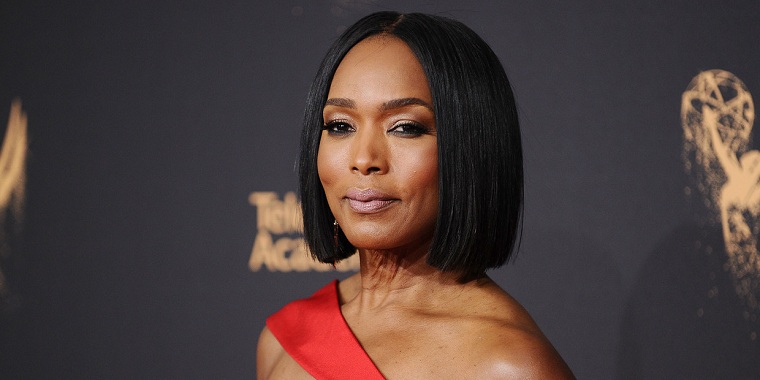 First and foremost, consider the natural texture of your hair. Is it rough, fine, straight, or curly? It's important to choose a style that works with your hair's texture to avoid styling issues. Embrace your new short haircut and use it to highlight your favorite features. Whether it's your eyes, lips, or cheekbones, let your haircut showcase what you love most about yourself.
So, what are the best short styles?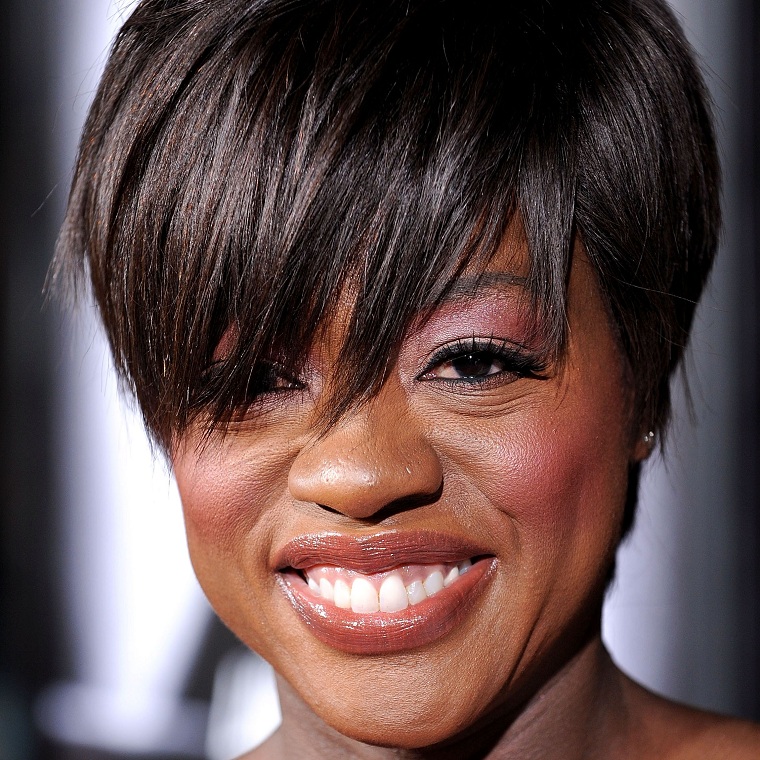 Many women refer to their 50s as their second youth, a time when they can truly enjoy life to the fullest. And guess what? You don't have to completely change your favorite style to look and feel young after 50. Timeless cuts like pixie cuts, versatile bobs, and layered hairstyles can all work wonders.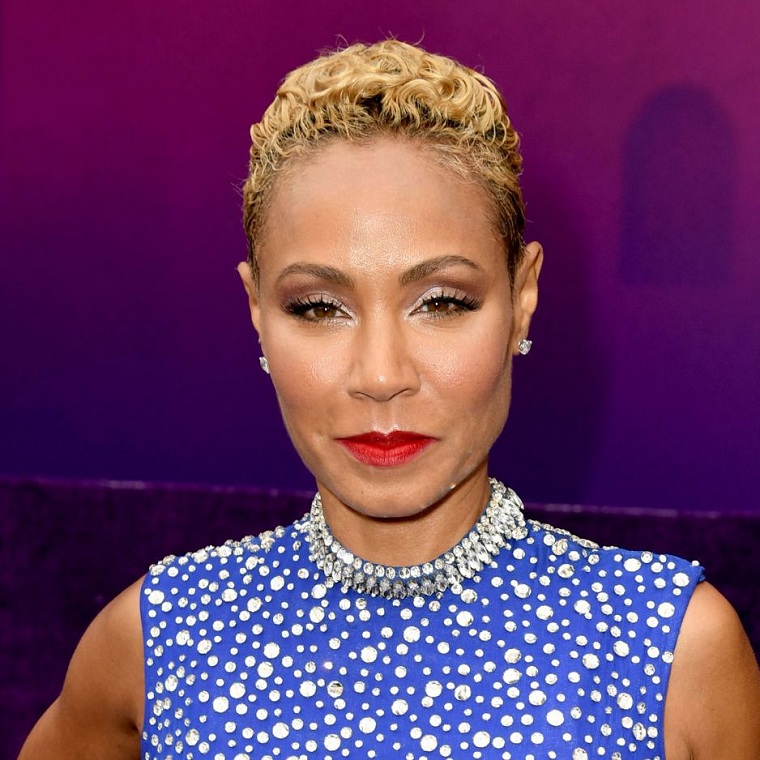 As you age, it makes sense to choose bolder haircuts that balance the increasing softness of your features. This is especially important when you decide to embrace your gray hair. If you're used to having bangs, there's no need to give up on them. Bangs can actually make women look younger, so go for a soft fringe that reaches your eyebrows or opt for gentle side-swept waves. If you have fine hair, try a short to medium version of a bob haircut, a daring pixie cut, or any other short hairstyle that adds volume and texture to your locks. Thick hair looks amazing in medium to long layered styles. But hey, you can experiment with anything from an ultra-short pixie to long bobs.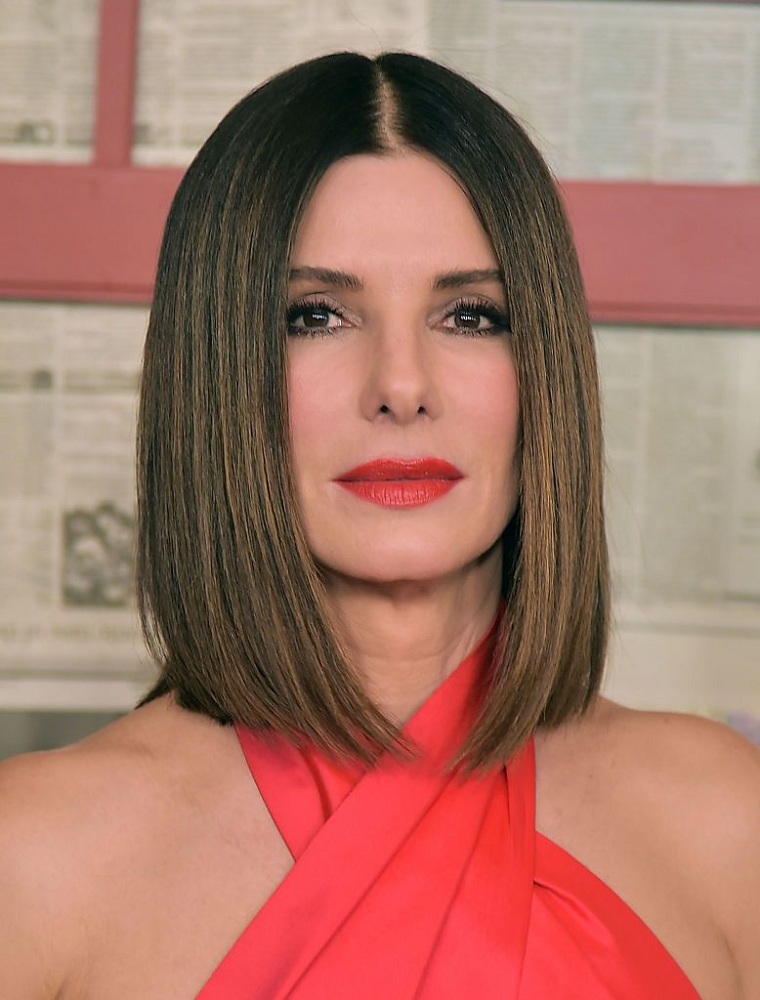 Women over 50 also tend to dye their hair more often to cover up gray hair. Lighter shades are easier to maintain, which is why many older women opt for blond or caramel tones. Another popular option is to mix gray hair with highlights and lowlights. On the other hand, darker, sophisticated tones like burgundy, reddish brown, and black chocolate can look stunning on mature women.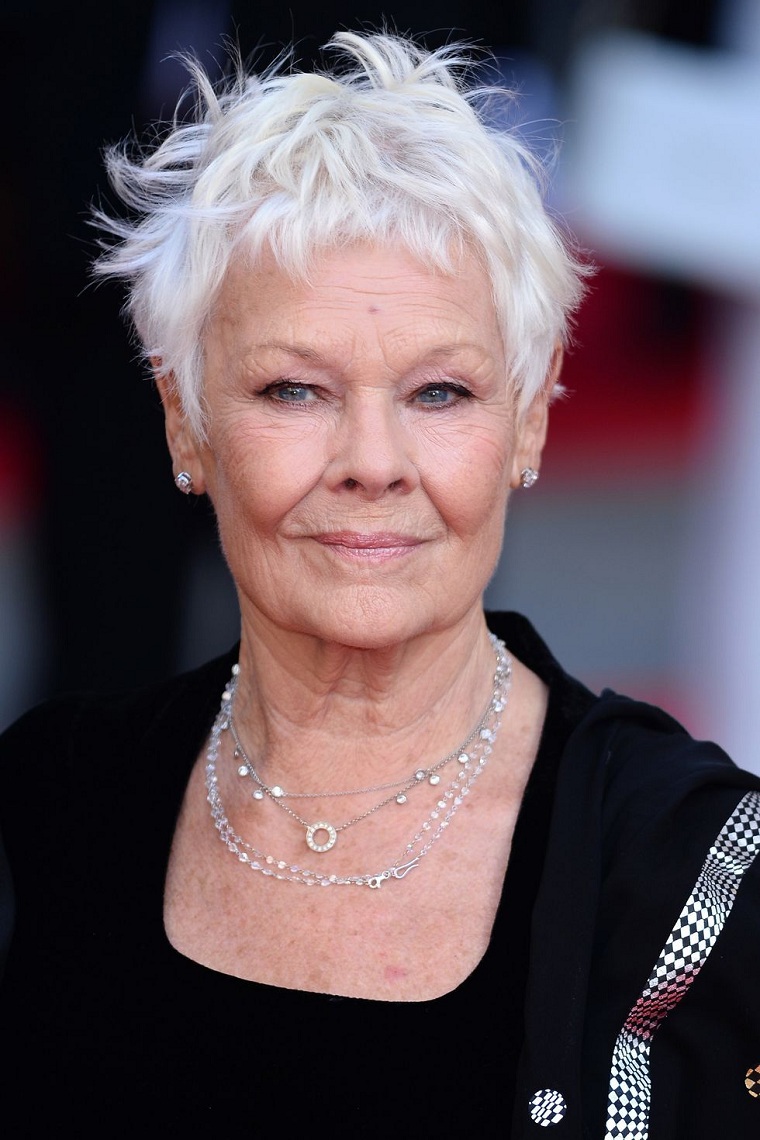 You can go for an impressive haircut with subtle layers and highlights that looks amazing on women with fair skin. To achieve this style, the longer strands should graze your shoulders, while the top layers are gradually cut shorter. Besides looking great, this hairstyle is also quite easy to maintain. Just complete the look with side-swept bangs in the front and use a round brush to style the ends.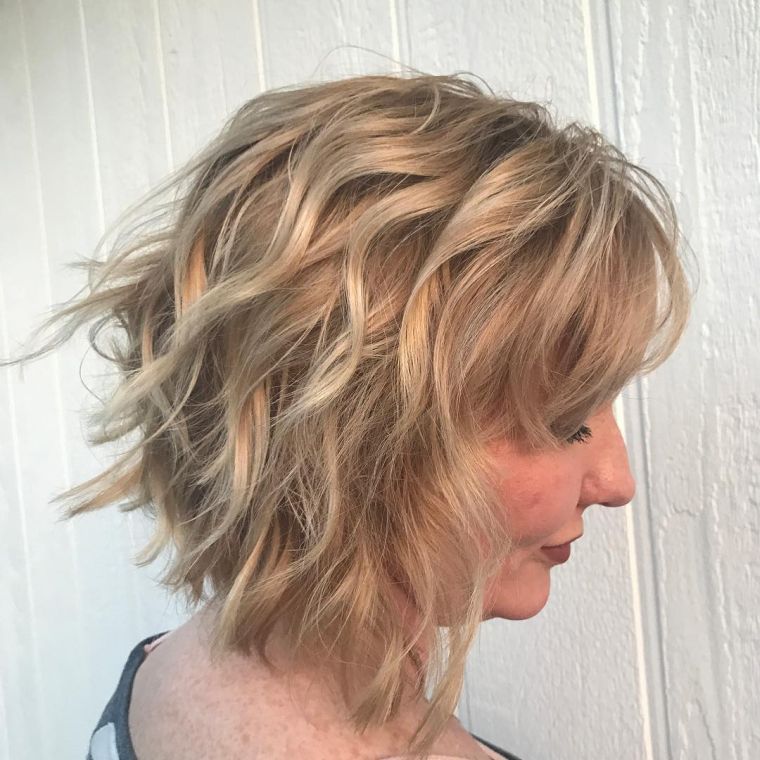 And have you heard of those sassy, broken strands at the root that stick out and give your hair a playful vibe? Well, they're called baby hairs, and they can add a touch of charm to your short hairstyle. Embrace them and let them do their thing!
Are you tired of your hair being messy and lacking charm? You can combat all of this by opting for a short and textured hairstyle. You don't need to go to extremes with soft or very short pixie hairstyles. The best transition to a shorter hairstyle would be to start with a bob. Then you can go even shorter, as the bob hairstyle will grow much faster if you ever don't like it.
Who could use hairstyles for 50-year-old women? If the changes in your hair aren't so bad that you necessarily have to opt for a short hairstyle, but you're tired of taking care of your long mane, then you should opt for a medium-length hairstyle from the 50s for women.
A length somewhere between the chin and the shoulders can give you the best of both worlds. A 50-year-old woman can wear her loose medium-length hair, highlighting her natural beauty and pulling it up to look even more elegant.
It doesn't take much time for hair to grow, and medium-length hairstyles are also less maintenance than long hairstyles and even some short hairstyles. To avoid haircuts that can keep you awake, prefer layered versions instead of blunt cuts. As you age, you lose the youthful smoothness of your face, so you don't want a look that emphasizes harsh angles.
Experts also suggest thick cuts and natural waves to avoid any sagging contour effect. How to look beautiful with hairstyles for 50-year-old women? Long hair is associated with women of any age. So if you have healthy and well-groomed locks, be bold and wear it proudly. As we said before, the key to wearing long hairstyles is to avoid severe aging by choosing hairstyles that are flattering, flexible, and layered.
When you feel that your hair lacks length or volume, but you're still determined to wear it long, don't hesitate to opt for extensions. Professionals say that as a woman ages, it becomes difficult for her to grow her hair and recommend adopting extensions to achieve a youthful glow. Opt for messy and deconstructed styles, including updos.
If you know you want to go short but are not sure where to start, don't worry. Keep scrolling to discover exactly which short hairstyle is right for you, along with all the inspiration you may need.
Hairstyles for 50-year-old women – Pixie
If styling is the last thing you want to think about in the morning, this low-maintenance cut might be for you. For an older woman who has natural curls or waves, the pixie cut is the best choice as it uses the natural hair pattern to create texture and volume. They are also relatively easy to style and maintain on a day-to-day basis.
There are slightly longer options than a traditional pixie cut. Both options are perfect for those who like to keep their hair routines to a minimum. You can wear a style that is cut shorter on the sides, which has a knack for tucking the hair behind the ears for a sleek and polished look.
Looking for a new hairstyle that will make you feel fabulous? Well, we've got some amazing options for women over 50! Whether you want to embrace your natural gray hair or try something bold and trendy, we've got you covered.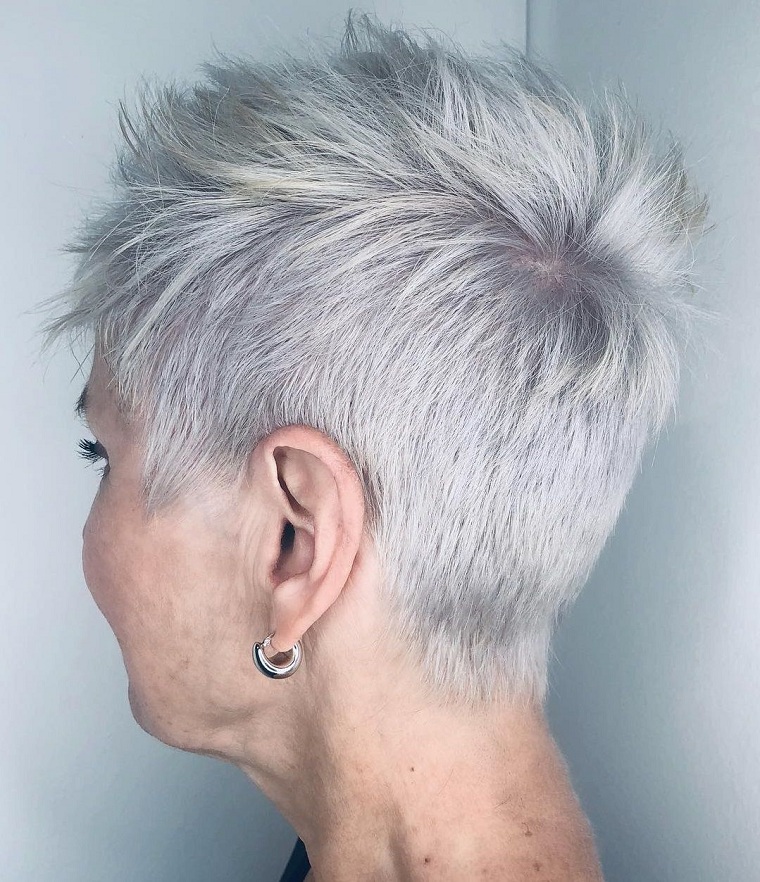 Haircuts for Women Over 50 – Long Pixie
If a pixie cut seems too daring for you, keeping a bit more length could be the perfect answer. A longer pixie style is also a great option for those who want to create an illusion of volume. The longer layers can add volume, which is ideal if your hair is thinning and falling flat. The long pixie also adds a feminine touch when paired with a full fringe.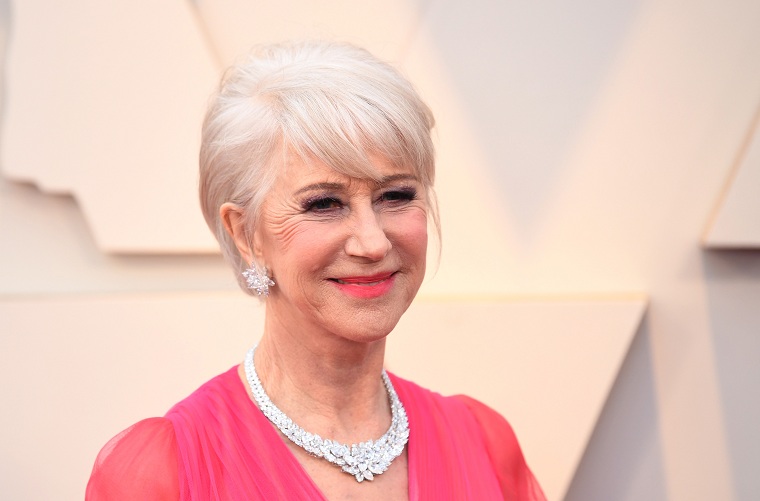 This style proves that a long pixie is one of the best cuts for creating volume. We can't get enough of the hairstyle combined with gray color. It oozes sophistication. If you hate spending too much time fussing over your hair, this style is perfect. You just need a little styling paste. This grown-out and side-parted cut is the epitome of cool. Plus, styling it is more or less a breeze.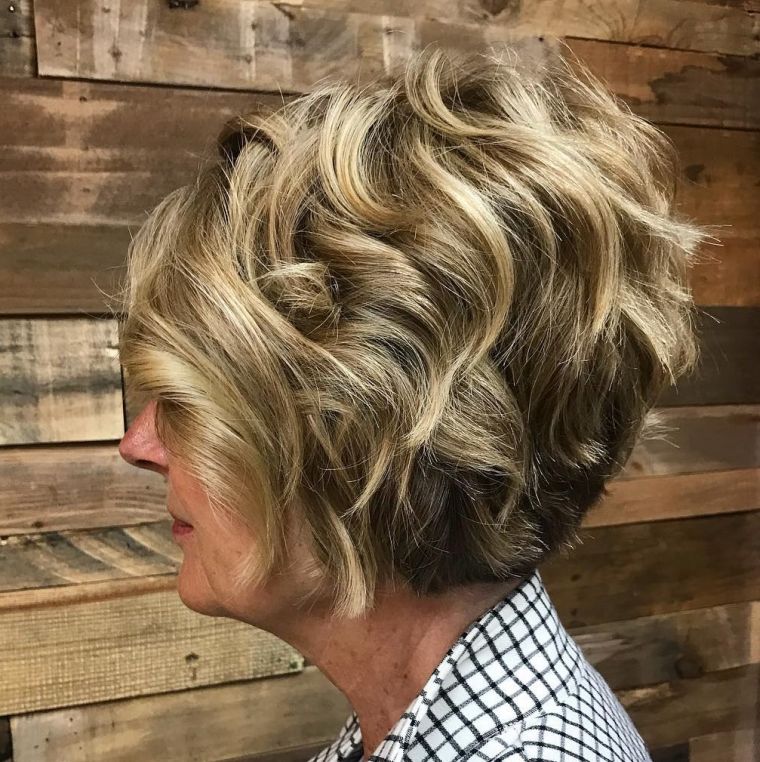 Haircuts for Women Over 50 – Short Bob
Want to simplify things? A blunt bob keeps the ends looking as fresh as possible. It can look quite quirky, a little edgy, and is very easy to style. This style works on wavy, straight, fine, medium, or thick hair, but for curly locks, be bold and cut it to jawline length. But be careful, a bob cut requires commitment. To keep it fresh, it is recommended to book a trim every six to eight weeks.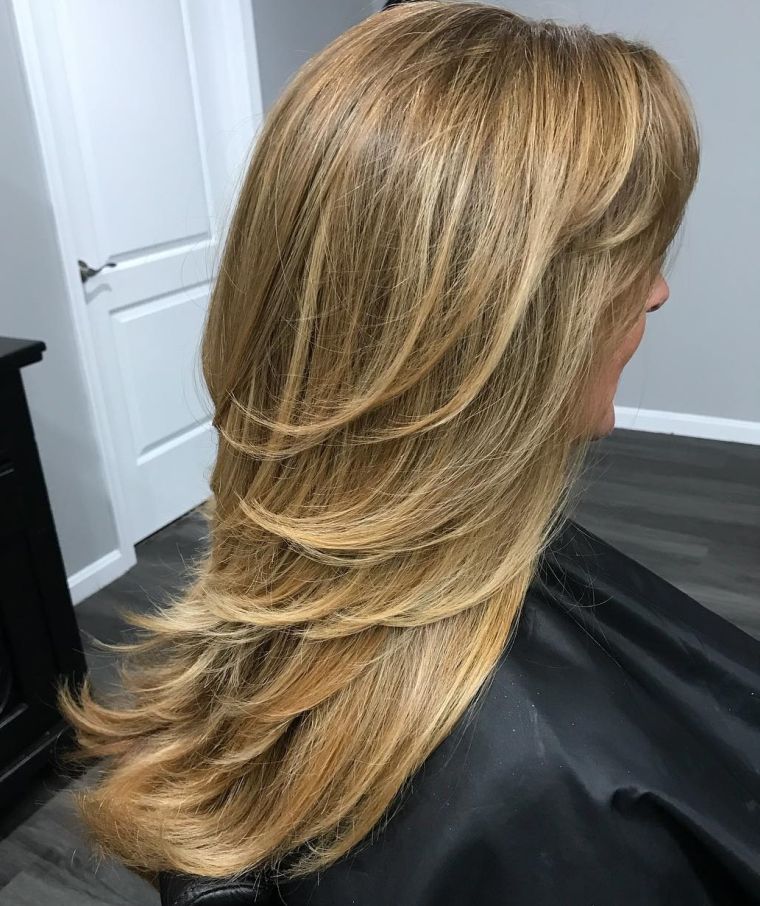 Haircuts for Women Over 50 with Modern Natural Gray Color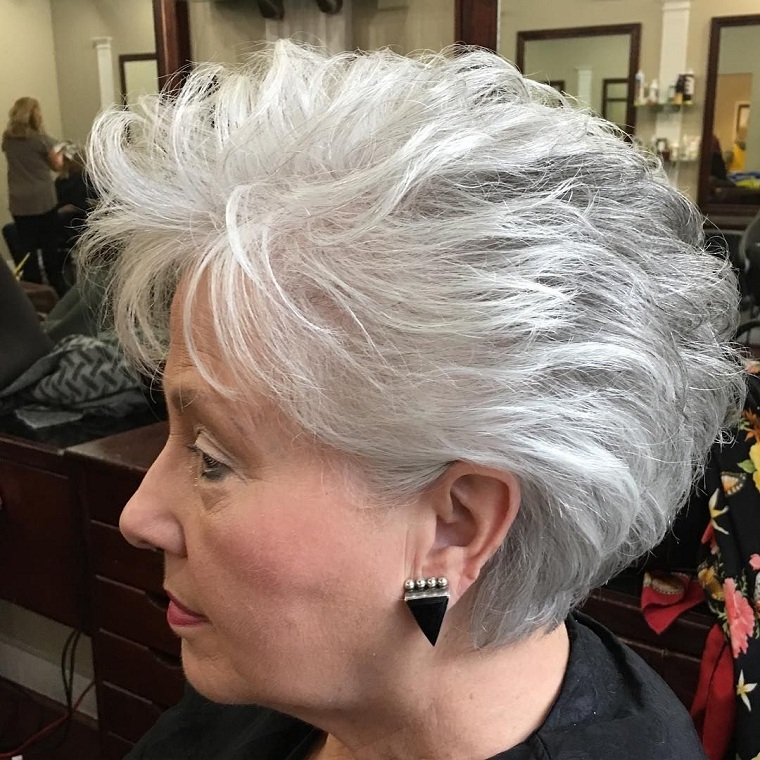 Original Curly Gray Hair Ideas with a Bob Cut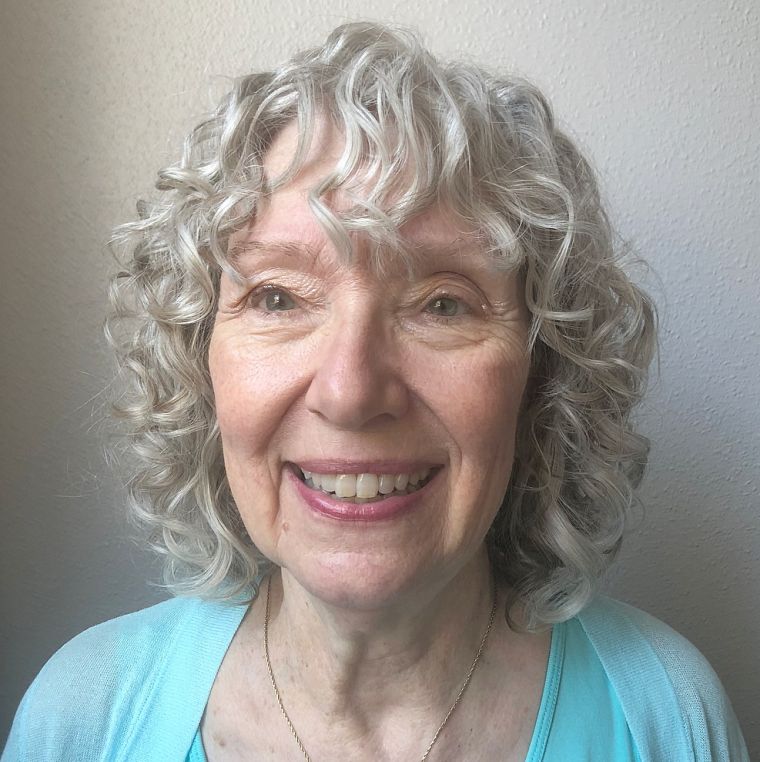 Perfect Shoulder-Length Blonde Hair for Mature Women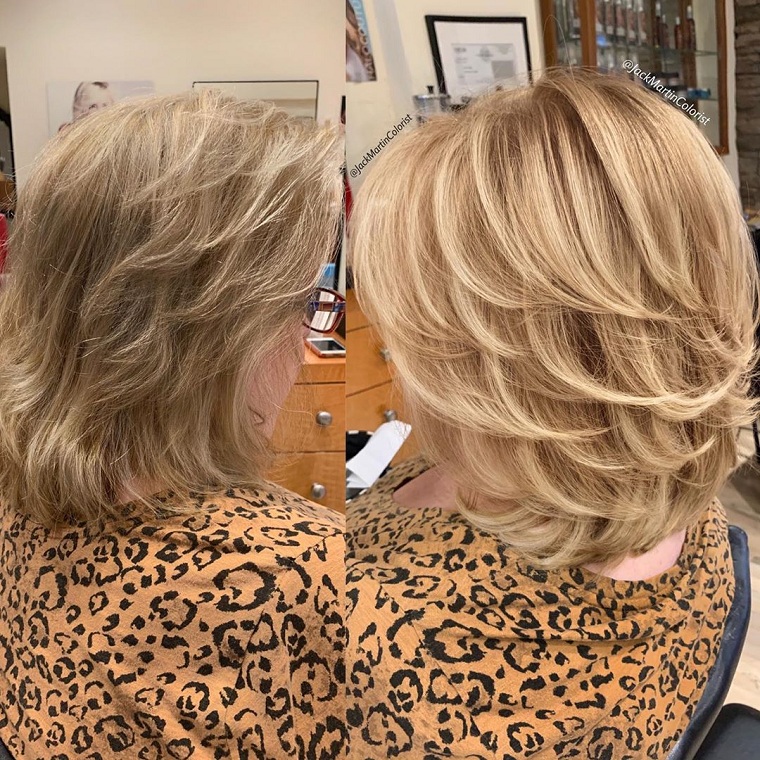 Ideas for Women in Need of Hair Volume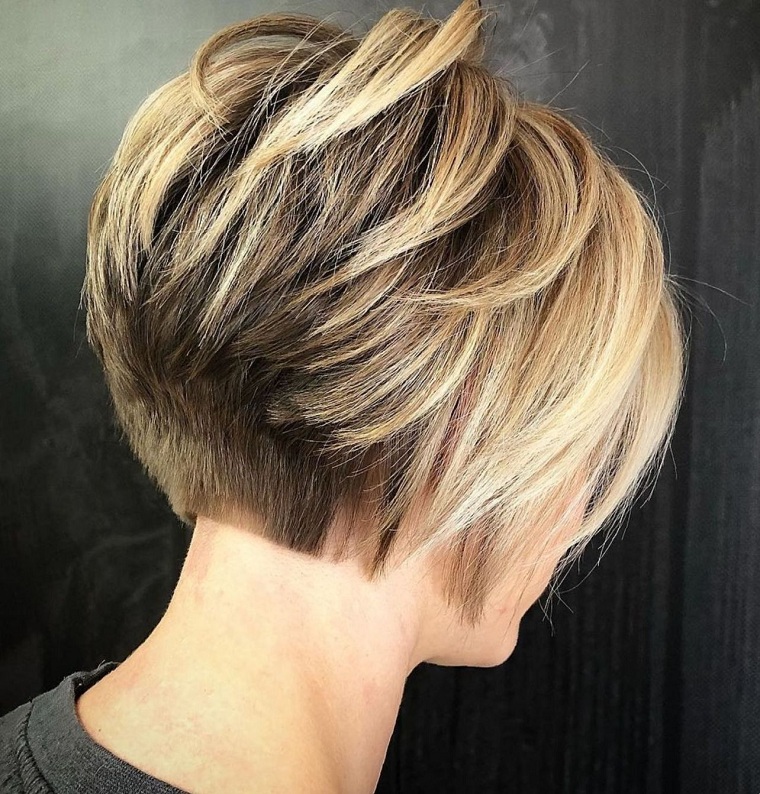 Haircuts for Women Over 50 with Bob Cut Ideas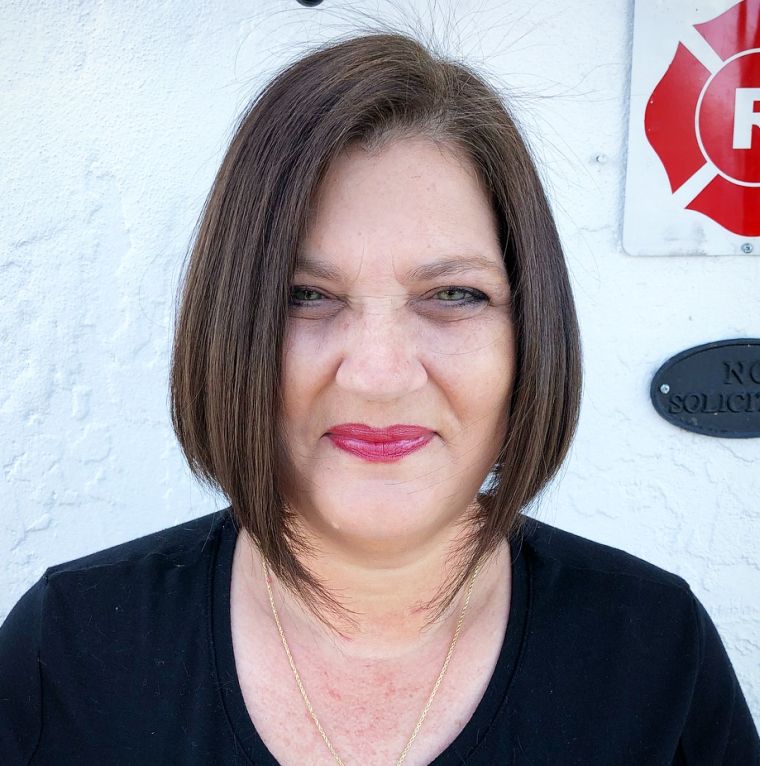 Haircuts for Women Over 50 that Help Add Volume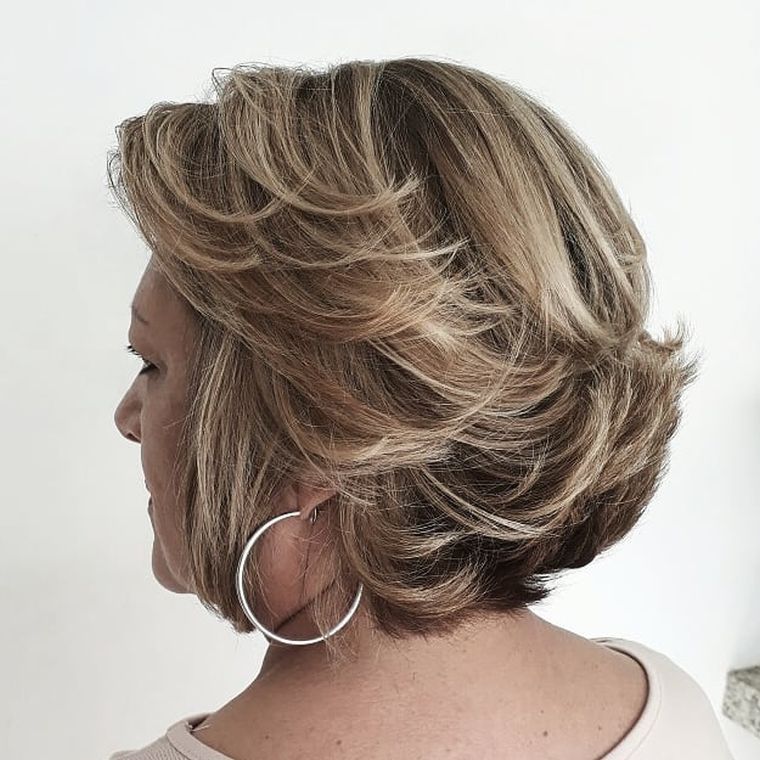 A Long Bob Cut to Shoulder Length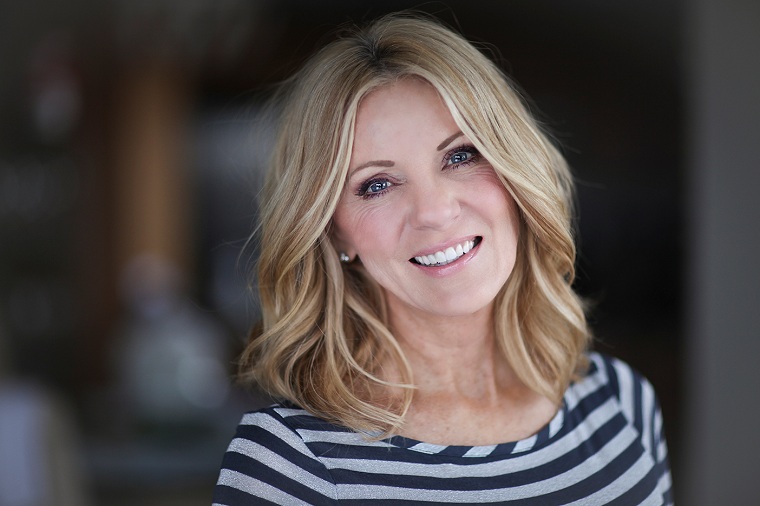 A Perfect Cut for Those Who Like to Change Their Look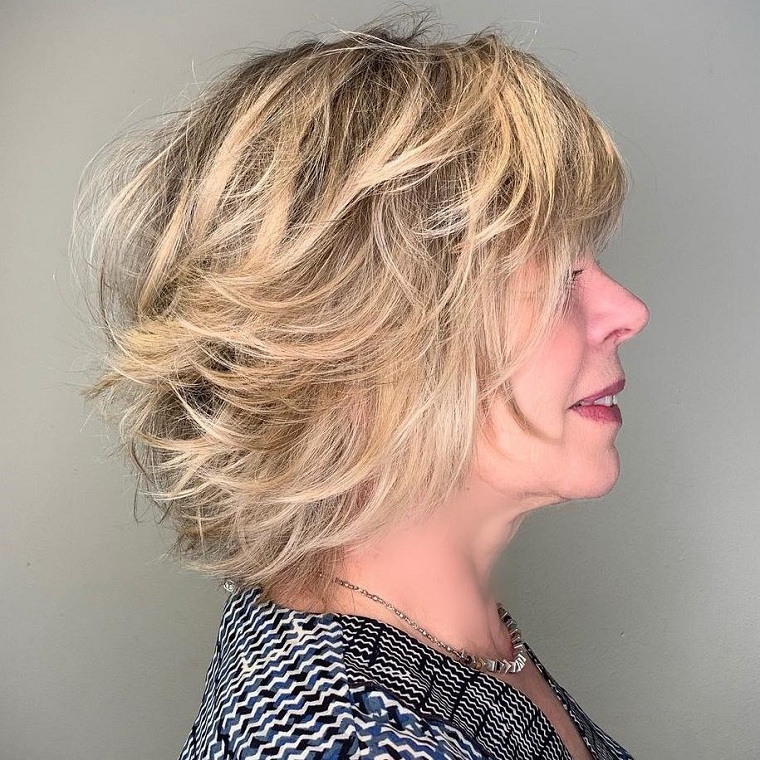 The bob is a suitable haircut for every age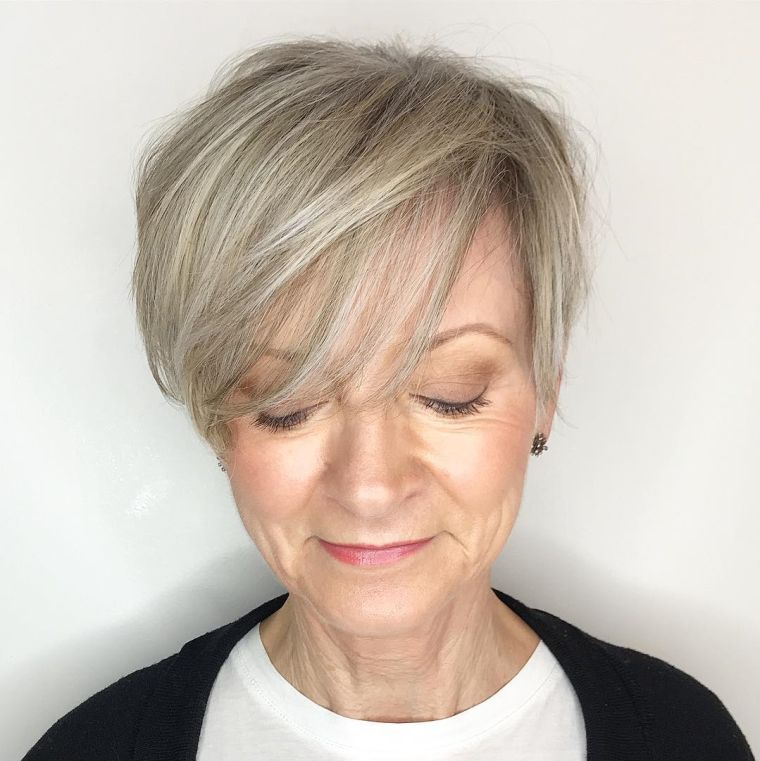 2021 Trend: Salt and Pepper Hair
Create Volume at the Roots with These Ideas